This article is a stub. It is short and in need of expansion. Why not help out?
This article is currently under construction. It may contain little or inaccurate information.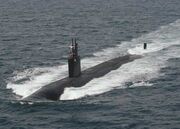 The
Los Angeles-class
, (sometimes called the
LA-class
or the
688-class
) is a class of nuclear-powered fast attack submarines that forms the backbone of the
US Navy
's submarine force. With 42 submarines of this class on active duty and 20 retired from service, the
Los Angeles
class has more nuclear submarines in it than any other class in the world. The
Los Angeles
class was preceded by the
Sturgeon
class and followed by the
Seawolf
.
Battlefield: Bad Company 2
Edit
In Battlefield: Bad Company 2, the Los Angeles-class submarines appear in the multiplayer map Nelson Bay during the end-game cutscene.
Battlefield 3
Edit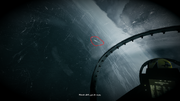 The Los Angeles-class Submarine appears in Battlefield 3 and is a part of the United States Navy Carrier Strike Group in the mission Going Hunting along with Oliver Hazard Perry-Class Frigates and other United States Navy vessels.