This article is a stub. It is short and in need of expansion. Why not help out?
This article is currently under construction. It may contain little or inaccurate information.
Incoming!
The subject of this article is a recent or unreleased addition to a Battlefield game. It may contain speculation or errors.
Have new, relevant information to add? Why not help out?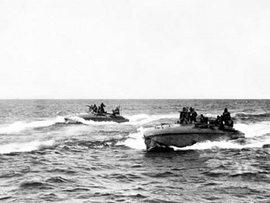 The Motoscafo Armato Silurante (Torpedo Armed Motorboat) is an Italian fast attack craft used during World War I and World War II to combat enemy submarines. Primary armaments included torpedoes and depth charges, and crew also manned a deck gun and heavy machine gun.
MAS 15, a 30-ton boat that entered service in 1916, was credited with the sinking of the SMS Szent István, an Austro-Hungarian battleship. It is preserved at a museum on the grounds of Il Vittoriano in Rome, Italy.[1]
Battlefield 1
Edit
M.A.S. Torpedo Boat
Vehicle passengers
1 driver
3 gunners
(4 total)
Vehicle armor
Heavy (all occupants exposed)
Main weapon
2x torpedoes
(Seat 1)
Passenger weapon
20mm auto-cannon (Seat 2)
Second passenger weapon
8mm heavy MG (Seat 3, 4)
Vehicle speed
Very fast
Vehicle maneuverability
Moderate
Operators
Regia Marina

The M.A.S. is the fast attack craft featured in Battlefield 1. It was first seen in the Battlefield 1: Official Gamescom Gameplay Trailer.
Its main armament are two torpedoes, operated by the captain. Additionally it is equipped with a rotating auto-cannon emplacement on the foredeck and a heavy MG mount port and starboard each.
Although carrying heavy armor, all occupants of the boat are exposed to enemy fire.
Appearances
Edit
The M.A.S. appears on maps where the Dreadnought serves as the Behemoth:
Vehicles of Battlefield 1
Light tanks
Heavy tanks
Landships
Light vehicles
Heavy vehicles
Fighters
Bombers
Attack planes
Emplacements
Torpedo boats

M.A.S. Torpedo Boat

Behemoths
Other
References
Edit
Ad blocker interference detected!
Wikia is a free-to-use site that makes money from advertising. We have a modified experience for viewers using ad blockers

Wikia is not accessible if you've made further modifications. Remove the custom ad blocker rule(s) and the page will load as expected.