M10 Wolverine
Talk

0
1,948pages on
this wiki

Not to be confused with the MAC-10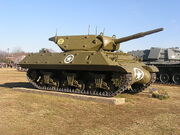 The M10 Wolverine was an American tank destroyer designed in 1942 and produced during World War II. It was used by American and British forces in Europe and North Africa in response to the heavily armored German tanks. It was armed with a 76.2mm main cannon, and an M2HB co-axial machine gun. It also had between 57.2mm and 9mm armor, depending on the different areas of the vehicle.
Battlefield 1942
Edit
M10 Wolverine
Main weapon

76.2mm main cannon

Main weapon ammuntion per reload

1 (30 Total)

Alternative weapon

Co-axial M2HB Browning machine gun

Alternative weapon ammuntion per reload

400 rounds

Operators
In Battlefield 1942, the M10 is issued to the United States Army and the British Army as their heavy tank. It has space for one player, who drives the vehicle and controls a powerful main cannon with 30 rounds in reserve and a co-axial machine gun with 400 rounds in reserve. It is significantly more powerful than medium tanks such as the M4 Sherman or Panzer IV, as it can sustain much more damage, and has a more powerful main cannon.