The M1914 Taschenpistole is a Codex Entry featured in Battlefield 1. It is unlocked upon obtaining ten kills with the Taschenpistole M1914.
Transcript
Edit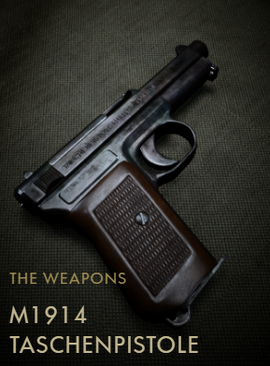 Pocket pistols were becoming very popular in the early 20th century, and German manufacturers wanted a share of the market. In 1910 the M1910 Taschenpistole was introduced - Taschenpistole meaning "pocket pistol" in German. It was chambered for the small .25 ACP round, and in 1914 the M1914 Taschenpistole for the slightly larger .32 ACP went on the market. It had an 8-round magazine in the grip, and like other pocket pistols was made to be very compact and easy to slide into a vest pocket.
Both models were well-made and became quite successful and produced in large numbers. When Germany entered World War I they needed all the good firearms they could get their hands on, and the M1914 Taschenpistole was used by the German Army. After WW1 the almost identical M1934 model was produced and went on to be used by Germany in World War II.
Ad blocker interference detected!
Wikia is a free-to-use site that makes money from advertising. We have a modified experience for viewers using ad blockers

Wikia is not accessible if you've made further modifications. Remove the custom ad blocker rule(s) and the page will load as expected.