The M30 Scout is a Codex Entry featured in Battlefield 1. It is unlocked upon riding in the M30 Scout for three minutes.
Transcript
Edit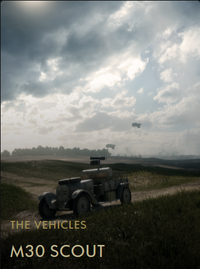 This car proved very reliable during the First World War with many thousands produced for the American war effort. Sometimes these types of cars came fitted with a machine gun, sometimes not.
Ad blocker interference detected!
Wikia is a free-to-use site that makes money from advertising. We have a modified experience for viewers using ad blockers

Wikia is not accessible if you've made further modifications. Remove the custom ad blocker rule(s) and the page will load as expected.