M5K
Talk

10
1,962pages on
this wiki

Not to be confused with the MP5.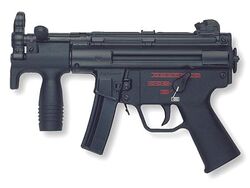 The MP5KA4 (German: Maschinenpistole 5 Kurz, English: Machine Pistol Model 5 Short) is a variant of the German MP5 developed in the 1980s, and both weapons are produced by Heckler & Koch. The MP5KA4 fires the same 9x19 Parabellum round used in the standard MP5 from either 15-round standard or 30-round extended magazines.
Battlefield 3
Edit
M5K
Unlocks

Reflex (10 kills)
Laser Sight (20 kills)
Suppressor (30 kills)
Holographic (40 kills)
Tactical Light (50 kills)
Extended Mags (60 kills)
M145 MGO (70 kills)
ACOG (80 kills)
Kobra (90 kills)
Flash suppressor (100 kills)
IRNV (125 kills)
PKA-S (150 kills)
PK-A (175 kills)


Damage

25 - 13.75

Suppression

7.0%

Damage multipliers

Head: 2.1x
Torso/arms: 1.0x
Legs: 0.9x

Unlocked at

Complete Hold the Trigger assignment

Ammunition capacity

20 + 1 rounds
30 + 1 rounds with Extended Magazine

Ammunition

9x19mm

Starting ammunition

105 + 21 rounds
93 + 31 rounds with Extended Magazine

Maximum ammunition

168 + 21 rounds
155 + 31 rounds with Extended Magazine

Reload time

2.2 seconds loaded
3 seconds empty

Rate of fire

900 RPM

Velocity

380 m/s

Maximum range

570m

First shot recoil multiplier

1.55

Recoil

Up: 0.25
Left: 0.48
Right: 0.48

Recoil decrease per second

30

Spread zoomed

0.6

Spread unzoomed

Standing: 1.2 static; 1.7 moving
Crouching: 1.2 static; 1.5 moving
Prone: 1.2 static; 1.5 moving

Spread increase per round

0.1

Spread decrease per second

15

Fire mode

Full-automatic
2-round burst
Semi-automatic

Faction
Kit
Dog Tags
Source of statistics
Inventory slot

Main weapon

youtube width="250" height="150"http://www.youtube.com/watch?v=31qpMTuGfzk </youtube>
"A tactical machine pistol based on one of the world's most successful submachine gun designs. With the shoulder stock completely removed and the shortened receiver, this ultra compact personal defense weapon is capable of very high rates of fire, as well as great stopping power at close range."
— Battlelog description
The M5K is a weapon introduced in the Battlefield 3: Close Quarters expansion and is unlocked upon the completion of the Hold the Trigger assignment. It was first seen in the Close Quarters Gameplay Premiere trailer.
Its ballistic characteristics are similar to the PP-2000, with the same damage and range, but with a much higher rate of fire and increased recoil. Due to these factors, engagements with the M5K should be kept at short ranges. Burst firing can help at long range, but the high damage drop off as well as high horizontal recoil makes this weapon unfavourable for range as it will take up to 9 shots to kill an uninjured foe.
The iron sights on the M5K are very clear and sharp, and easy to acquire targets with at the ranges it should be used at. The weapon features Automatic, Semi, and 2-round burst modes. It's worth noting both hipfire and aimed accuracy of the M5K is slightly worse than that of the other PDW's (Not including the AS VAL).
The Battlelog icon lacks the two round burst setting.
The M5K has a base accuracy 0.6, making it the least accurate primary weapon in the game without attachments that's not a shotgun.
External links
Edit