MP-412
Talk

7
1,695pages on
this wiki
Redirected from MP412

The
MP-412 REX
is a .357 magnum Russian dou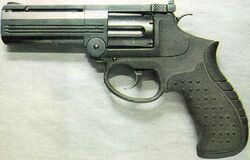 ble action revolver designed by Izhevsk Mechanical Plant in the late 1990s. It was designed for export (
REX
:
R
evolver for
EX
port), but never put into full production due to lack of a market.
Battlefield: Bad Company
Edit
MP-412
Damage

High

Unlocked at

Default

Ammunition capacity

6 rounds

Maximum ammunition

30 rounds

Faction

MEC

Kit

Recon

Inventory slot

Secondary Weapon
In
Battlefield: Bad Company'
s singleplayer, the
MP412
can be alongside of
Middle Eastern Coalition
sniper rifles, specifically with the
GOL
. It is very effective, and kills enemies in two shots.
In multiplayer, the MP412 is the companion sidearm for the Middle Eastern Coalition Recon kit. It has a capacity of 6 rounds, balanced out by high power, requiring 3 body shots to kill. Because its rate of fire is identical to that of the other pistols, the MP412 can kill significantly faster than the M9 or MP443, making it arguably the best handgun in the game. The GOL is always accompanied by the MP412.
Weapons of

Battlefield: Bad Company

Assault rifles
Shotguns
Sniper rifles
Compact assault rifles
Light machine guns
Sidearms
Rocket launchers
Grenade launchers
Gadgets
Battlefield: Bad Company 2
Edit
MP-412 REX
Damage

40-33.4

Damage multipliers

2.1x Head

Unlocked at

Level 12

Ammunition capacity

6 rounds

Maximum ammunition

18 + 6 (without Ammo Upgrade)
36 + 6 (with Ammo Upgrade)

Reload time

4.1 seconds

Rate of fire

200 rpm

Range

Recoil

Medium

Fire mode

Semi-Automatic

Faction
Kit

All

HUD Icon

Sound(s)

Original sound


Inventory slot

Handgun



"A 6 round revolver revered for its close range edge and notable Magnum firepower. Its top break design is a throw back to old 6-shooters of the "Wild West"."
— In-game description
Only available in multiplayer, the MP-412 REX is issued to all kits and is unlocked at level 12. It has a 6 round capacity and has the least spread and second highest damage out of any hand-held weapon in the game (second only to the sniper rifles), but is balanced by it's low rate of fire, small magazine size, long reload time, and heavy recoil.
At close range, the MP-412 REX, with Magnum Ammunition equipped, is capable of a two-shot kill with body shots, as well as a one-shot kill by a headshot.
Battlefield Play4Free
Edit
MP 412 Rex
Damage

Close Range 62-68
Medium Range 48-52
Long Range 16-20

Damage multipliers

Bodyshot: 0.77
Headshot: 2.5

Unlock cost
Ammunition capacity

6 rounds (10 magazines)

Maximum ammunition

60 rounds

Reload time

3.2 seconds

Rate of fire

225 rounds per minute

Range

Fire mode

Semi-automatic

Special feature(s)

The Range chart shows damage after applying 0,77x bodyshot multiplier
The MP-412 Rex is available for purchase in the Battlefield Play4Free game store. It has a low rate of fire and high kick, but the firecap is low enough that the kick is negligible. It does the highest damage per shot out of any gun in the game, only excluding bolt-action snipers, killing in three shots at close range. However the gun's low rate of fire and high kick make it hard to use at long range, when multiple shots are needed to kill an enemy.
Also, the weapon comes at a high cost of up to 3749

for unlimited use, but a one day trial of this gun is avaliable for every player.[1]
Battlefield 3
Edit
MP412 REX
Damage

50-20

Unlocked at

5000 Co-op Points

Ammunition capacity

6 Rounds

Starting ammunition

30

Maximum ammunition

48

Reload time

3.40 Seconds

Rate of fire

255 RPM

Velocity

300 m/s

Range

450 m

Recoil

1.2 Up
0.2 Right
0.2 Left

Spread zoomed

0.3-3.0

Spread unzoomed

Stand 2.0-7.0
Crouch 1.0-7.0

Spread increase per round

0.3

Spread decrease per second

11.0

Fire mode

Sem-Automatic

Faction
Kit

All

Dog Tags
Source of statistics
Inventory slot

Handgun

Original sound

"Developed for export in Russia (REX stands for Revolver for Export), the MP412 is a compact .357 Magnum handgun with an interesting tilt open and auto extraction design. While not as powerful as the .44 Magnum, the .357 Magnum round from the MP412 offers excellent stopping power and the compact package offers a slightly higher rate of accurate fire."
— Battlelog description
The MP412 REX deals high damage and will kill enemies in 2-5 rounds, depending on distance. At close range, a headshot with the Rex will always kill an enemy in 1 shot. It's worth noting it has a slightly worse hipfire accuracy than the other pistols except the automatics at 1.25.
The MP412 REX is unlocked for multiplayer, when an overall score of 5,000 points is achieved in Co-Op, it is the first weapon unlocked from Co-Op.
Battlefield 4
Edit
The MP-412 appears in the Battlefield 4: "Fishing in Baku" Gameplay Reveal Trailer where Dunn gives it to Recker so he shoots the front window of the SUV, giving their squad a chance to escape the sinking SUV.
Weapons of

Battlefield 4

Assault Rifles
Carbines
Light Machine Guns
Shotguns
Handguns
Launchers
Optics
Ammunition
Gadgets and Other Equipment
The Battlefield 3 rendition of MP-412 has a significantly shorter barrel than in BF:BC2 and BF:P4F, and more resembles its appearance in BF:BC.
The Battlefield 3 variant of the MP-412 features a reloading animation that is different from its previous iterations where upon opening the revolver, the spent casings are automatically ejected, not manually poured out. This accurately demonstrates the automatic ejector in the gun.
The MP-412 is the only pistol in Battlefield 3 not to have a variant.
In Battlefield 3, the MP-412 mastery dogtag is glitched and instead shows the kill count of the MP-443.
In Battlefield 3, the MP-412's chamber will sometimes disappear during the reload animation.
External links
Edit
References
Edit