MR-444
Talk

0
1,948pages on
this wiki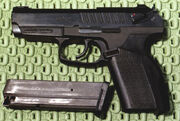 The
MP-444 "Baghira"
pistol is a modern pistol designed in Russia at the
Izhevsk Mechanical Plant
(IMZ) and was built to replace the Makarov handguns. It uses a detachable, box-type, double-column magazine. It also uses 10 or 15 round box magazines and has an effective range of 25 meters.
Battlefield 2
Edit
MR-444
Damage

20 - 8

Range

100 (Max damage)
200 onward (Min damage)

Recoil

0.5 - 0.8

Spread zoomed

0.25

Spread unzoomed

0.5 (Minimum)
0.6 (Crouched)
0.7 (Standing)

Faction
"The Russian made MR-444 is a polymer-framed semi-automatic pistol firing 9mm ammunition. It is sold world-wide and well-known for its reliability."
— In-game description
In Battlefield 2, the MR-444 is the standard sidearm of the Middle Eastern Coalition, and comes both with and without a suppressor (The former available only to the Special Forces and Sniper kits). It can kill in about five rounds, has a 15-round magazine, a 300 round-per-minute firecap, and moderate spread at close to medium range.
Battlefield 2: Special Forces
Edit
In the Special Forces expansion for Battlefield 2, the MR-444 appears as the standard sidearm for the Spetsnaz, MECSF, the Rebels, and the insurgents. It retains the stats of the base game's weapon, but its proliferation makes it the most widely-used weapon in the entire game.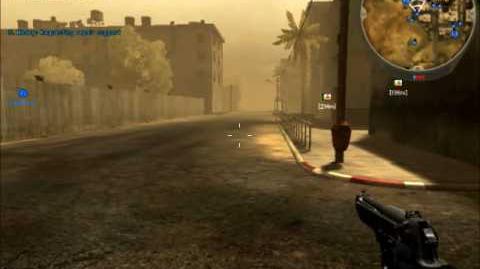 The ironsights of this weapon are mis-aligned, and are modeled with the front sight at the rear and vice versa.
In the game files, this weapon is predominantly referred to as "Baghira" and "MP444" rather than simply MR-444.
External links
Edit