Machine Gun
Talk

0
1,693pages on
this wiki

This article requires a clean-up due to a lack or organization.
Please help out by editing the page, or if necessary, please see the relevant discussion on the talk page.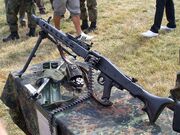 A
machine gun
(commonly abbreviated
MG
) is a rifled small arm designed to deliver a high amount of bullets. Some MG models offer a Selective fire option.
MGs have appeared in every single Battlefield game with the weapons varied and the mechanics slightly changing overtime.
Strategies
Edit
Machine guns are devastating against tightly clustered infantry. They are also ideal for defending hallways and choke points.
Machine guns typically perform best when the user is prone. Some games give MGs increased accuracy over time, favoring gunners who have settled in over those who are mobile.
MGs in some games are vulnerable to overheat, which prevents the user from firing. Burst fire is necessary to avoid overheat.
MGs do not excel in close-range combat, though a strafing gunner can put more bullets into such a fight.
Battlefield 2142
Edit
Three portable machine guns are offered to the player: the faction-specific Shuko K-80 LMG and Bianchi FA-6 LMG, and the unlockable Ganz HMG. The three guns are listed in order of decreasing fire rate and increasing damage per round.
Infantry MGs in this game offer increased accuracy the longer the user fires, but are also vulnerable to overheating. A significant drop in accuracy occurs when a player prones, but gradually decreases over time. No such drop occurs when switching between standing or crouch—mobile players should crouch rather than prone.
LMGs are mounted on the Fast Attack Vehicles and APCs. HMGs (or comparable autocannons) are mounted on Tanks and Battlewalkers.
Battlefield 3
Edit
The most notable weapon accessory in Battlefield 3 is the Bipod that is standard equipment on all machine guns. It reduces recoil and replaces the field-mounted MGs from previous games.
The standard-issue MGs, the M27 IAR and the RPK-74M, are magazine-fed weapons with quick reload time to compensate for their low ammo count. Most other unlockable MGs are belt-fed, allowing for increased suppressive fire in exchange for longer reload time. The two Back to Karkand MGs: the QBB-95 and MG36, are drum-fed weapons with attributes in between the two other types. Machine gunners can also make use of Extended Magazines and the AMMO specialization to further increase their stock. None of the infantry machine guns are vulnerable to overheat.
Portable MG's general benefits are a variable, yet universally higher ammo capacity than any other gun in Battlefield 3 with the exception of the P90 and the PP-19. Also, MG's gain the largest recoil and accuracy boosts of any weapon type in Battlefield 3 when deployed on a bipod. Beltfed machine guns and especially medium machine guns excel at holding areas and denying enemy access through continous fire made possible by the large magazine capacities of 100 rounds standard.
However, bipod deployment not withstanding, MG's suffer from lower than average accuracy compared to carbines and Assault Rifles (though unique to the weapon class, ADS spread is halved when in prone position). Also, recoil is generally higher on machine guns, and even light machine guns compared to their assault rifle derivatives. Finally, beltfed machine guns suffer from the longest reload times of any weapons in battlefield 3, as well as the highest hipfire spread, making them highly disadvantaged in close quarters scenarios. Finally the Machine guns of Battlefield 3 doesn't offer extreme rates of fire like assault rifles or carbines, as the fastest firing MG is the M249 at 800 rounds per minute.
All ground vehicles except for the mobile AA units have mounted HMGs, typically used by a gunner (second seat). LMGs are provided to all passenger positions on IFVs. On MBTs and IFVs, coaxial LMGs and HMGs are offered as unlockable secondary weapons for the driver. All but the coaxial HMG are vulnerable to overheat.