| | |
| --- | --- |
| | This article is currently under construction. It may contain little or inaccurate information. |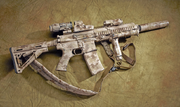 A Magnifier is an optical attachment used with Red Dot Sights and Holographic sights. Magnifiers provide users of these non-magnifying sights with improved target recognition at medium and long ranges, while still allowing the shooter to make use of their sight for shorter ranges.
Battlefield 4
Edit

The Magnifier is a weapon attachment featured in Battlefield 4. It offers a toggleable 2x magnification to any 1x sight (any in the "close range" category), such as a Red Dot Sight or a Holographic Sight.
It serves as the counterpart to the Canted Ironsights attachment -- a shortstop between a medium-range sight and a close-range sight which offers greater zoom in exchange for a more obfuscated field of view. It is not available for the PDWs, and is replaced by Variable Zoom on sniper rifles. It is also the default accessory attachment for the U-100 MK5.
The Magnifier can be toggled on or off by selecting the key mapped to Toggle Weapon Light.  The default key is T on the PC or D-Pad Up on consoles. A short animation of the player's soldier moving the magnifier into place will play when the Magnifier is toggled on or off; the player is still able to fire his weapon during the animation, but will be unable to aim down sight until the animation is complete.
Battlefield Hardline
Edit
| | |
| --- | --- |
| | This Section is currently under construction. It may contain little or inaccurate information. |
A Magnifier (2x) appears as an accessory in Battlefield Hardline.
The Magnifier is represented by a magnifying glass on the inventory bar.
A bug may occur in which toggling the magnifier on will not change anything, but toggling it off will render the zoom. This goes away upon respawn.
The Magnifier featured in Battlefield 4 is modeled after the EOTech G33 Magnifier.
References
Edit
Ad blocker interference detected!
Wikia is a free-to-use site that makes money from advertising. We have a modified experience for viewers using ad blockers

Wikia is not accessible if you've made further modifications. Remove the custom ad blocker rule(s) and the page will load as expected.