The Model 8 Autoloading is a Codex Entry featured in Battlefield 1. It is unlocked upon obtaining ten kills with the Autoloading 8.
Transcript
Edit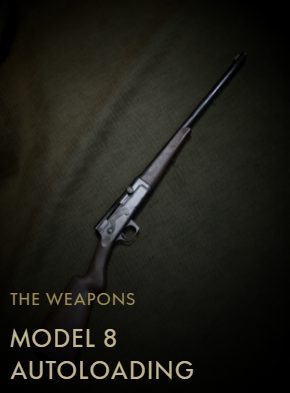 Patented in 1900 and eventually being sold as the Model 8 Autoloading rifle in 1906, the Model 8 was one of the earliest semi-automatic rifles on the market. Produced in both the US and Belgium, it was primarily intended as a hunting rifle, but particularly in Europe, it was hard to convince hunters to spend money on a novel and expensive rifle.
The Model 8 used a long recoil operating system, which worked well for hunting but was prone to overheating and malfunctions with high volumes of fire. It did however build a reputation as a reliable and durable hunter's weapon. The Model 8 also saw service as a police gun using a detachable extended magazine.
About 100 Model 8 rifles were sold to France in 1915 and used as aircraft rifles before the advent of aircraft machine guns. The weapons was also used during the Irish Easter Rising of 1916, as well as the Russian Civil War after WW1.
Ad blocker interference detected!
Wikia is a free-to-use site that makes money from advertising. We have a modified experience for viewers using ad blockers

Wikia is not accessible if you've made further modifications. Remove the custom ad blocker rule(s) and the page will load as expected.