This article is a stub. It is short and in need of expansion. Why not help out?
This article is currently under construction. It may contain little or inaccurate information.
Incoming!
The subject of this article is a recent or unreleased addition to a Battlefield game. It may contain speculation or errors.
Have new, relevant information to add? Why not help out?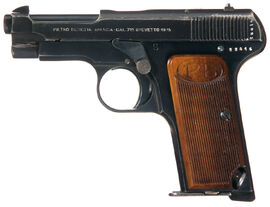 The
Beretta M1915
was a semi-automatic pistol designed in Italy by Tullio Marengoni, and accepted into service with the
Italian
Army in 1915. The pistol, which used the 9mm Glisenti round, was developed at the request of the military after problems concerning cartridge power and reliability were found with the first automatic handgun in Italian service - the Glisenti Model 1910. Due to the demand for weapons after Italy entered
World War I
in 1915, the Beretta pistol was manufactured in high numbers alongside the earlier Model 1910. The weapon received some improvements post-war in 1919 and 1923, with its numerous variants serving as the standard service pistol in the Italian Army between 1923 and 1945.
[1]
Battlefield 1
Edit
"Designed with simplicity in mind, with an 8 round detachable magazine the m1915 was adopted by the Italian army going into WW1."
— In-game description
The 
Modello 1915
 is a weapon set to be featured in
Battlefield 1
[2]
.
References
Edit