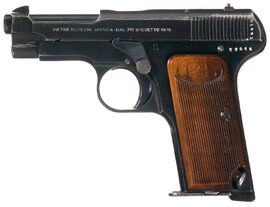 The
Beretta M1915
was a semi-automatic pistol designed in Italy by Tullio Marengoni, and accepted into service with the
Italian
Army in 1915. The pistol, which used the 9mm Glisenti round, was developed at the request of the military after problems concerning cartridge power and reliability were found with the first automatic handgun in Italian service - the Glisenti Model 1910. Due to the demand for weapons after Italy entered
World War I
in 1915, the Beretta pistol was manufactured in high numbers alongside the earlier Model 1910. The weapon received some improvements post-war in 1919 and 1923, with its numerous variants serving as the standard service pistol in the Italian Army between 1923 and 1945.
[1]
Battlefield 1
Edit
This item has a Codex entry: Modello 1915 Pistol
"Designed with simplicity in mind, with an 8 round detachable magazine the M1915 was adopted by the Italian army going into WW1."
— In-game description
The Modello 1915 is a sidearm featured in Battlefield 1.
Singleplayer
Edit
In the War Story, Avanti Savoia!, specifically, the second half, Luca Vincenzo Cocchiola starts with one as their sidearm, alongside the Villar Perosa.
Multiplayer
Edit
In multiplayer, the Modello 1915 fills the role of a low-damage, high rate-of-fire handgun for the Support kit. It is almost identical to the Frommer Stop, 1903 Hammerless and Taschenpistole M1914 in this regard. However, it has the worst reload time for bullets left, 1.5s compared to the 1.25s of the Frommer Stop and Taschenpistole M1914, and the 1.16s of the 1903 Hammerless.
References
Edit
Ad blocker interference detected!
Wikia is a free-to-use site that makes money from advertising. We have a modified experience for viewers using ad blockers

Wikia is not accessible if you've made further modifications. Remove the custom ad blocker rule(s) and the page will load as expected.