NJ 2046
Talk

0
1,963pages on
this wiki

This article is a stub. It is short and in need of expansion. Why not help out?
This article is currently under construction. It may contain little or inaccurate information.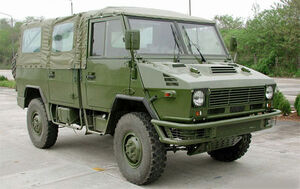 The
NJ 2046
is a high mobility truck jointly produced by Nanjing Motor Corporation of
China
and IVECO of
Italy
introduced in 2001. The vehicle itself is Chinese designation of the IVECO 40.10WM military truck and the two are nearly identical. The NJ 2046 is armed with a ring-mounted
Type 85 HMG
that can be replaced by an
HJ-8
if necessary in an anti-armor role.
Battlefield 2
Edit
NJ 2046
Vehicle passengers

Driver
Gunner
2 passengers
(4 total)

2nd passenger weapon
2nd passenger weapon fire mode

Fully automatic

2nd passenger weapon ammunition per reload

Unlimited

3rd & 4th passenger weapon

Passengers' kit weapons

Vehicle speed

Fast

Vehicle maneuverability

Medium

Camouflages available

Woodland

Operators

People's Liberation Army
The NJ 2046 is the light vehicle of the People's Liberation Army and can hold four players. Its equivalents are the USMC HMMWV and the MEC GAZ-3937 Vodnik. the vehicle itself is in much respect more similar to the Vodnik as its passenger layout is the same, and it is taller than the HMMWV.

โจมตีโลกโจมตีไทย |name=Vehicles/BF2 |group1=Main Battle Tanks |list1 = M1A2 Abrams · T-90 · Type 98 · Challenger 2 (Euro Force) · Leopard 2A6 (Euro Force) |group2 = Infantry Fighting Vehicles |list2 = LAV-25 · WZ551 · BTR-90 · BMP-3 (Special Forces) |group3 = Light Vehicles |list3 = Desert Patrol Vehicle · HMMWV · GAZ-3937 Vodnik · FAV Buggy · NJ 2046 · ATV (Special Forces) · Technical (Special Forces) · AIL Raider (Special Forces) |group4 = Anti-Aircraft Vehicles |list4 = M6 Linebacker · 2K22 Tunguska · Type 95 SPAAA |group5 = Civilian Vehicles |list5 = Trailer Truck (Armored Fury) · Muscle Car (Armored Fury) · Civilian Car (Special Forces) · Forklift (Special Forces) |group6 = Helicopters |list6 = AH-1Z Viper · MH-60S Knight Hawk · Mi-28 Havoc · Mi-17 Hip · WZ-10 · Z-8 · Mi-24 Hind (Special Forces) · AH-64 Apache (Special Forces) · Eurocopter Tiger (Euro Force) · OH-6 Little Bird (Armored Fury) · Eurocopter EC635 (Armored Fury) · WZ-11 (Armored Fury) |group7 = Fixed-Wing Aircraft |list7 = F-18 Hornet · F-35B Lighting II · F-15E Strike Eagle · MiG-29 Fulcrum · Su-34 Fullback · J-10 · Su-30 Flanker-C · Eurofighter Typhoon (Euro Force) · A-10 Thunderbolt (Armored Fury) · Su-25 Frogfoot (Armored Fury) · Q-5 Fantan (Armored Fury) |group8 = Naval Craft |list8 = Rigid Inflatable Boat · USS Essex (LHD-2) · Jet Ski (Special Forces) |group9 = Emplacements |list9 =BGM-71 TOW · HJ-8 · FIM-92 Stinger · IGLA · Phalanx CIWS |group10 = Cut Vehicles |list10 = LCAC · Wheelbarrow · Lynx (Euro Force) · VBL (Euro Force) · Harrier (Armored Fury) }}