Nail Knife is a Codex Entry featured in Battlefield 1, introduced in the They Shall Not Pass expansion. It is unlocked upon obtaining ten kills with the Nail Knife.
Transcript
Edit
THE NAIL KNIFE
Edit
THEY SHALL NOT PASS
Edit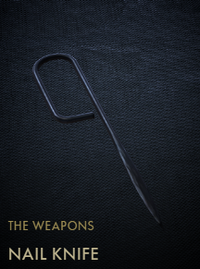 The Clous Français - A double-edged robust and crude weapon. A close quarters trench knife, created by local blacksmiths or soldiers at the front from salvaged steel. Often made from the steel stakes used to support barbed wire or the metal bars in reinforced concrete bunkers.
War created material shortages and shortages makes people in dire need creative.
Ad blocker interference detected!
Wikia is a free-to-use site that makes money from advertising. We have a modified experience for viewers using ad blockers

Wikia is not accessible if you've made further modifications. Remove the custom ad blocker rule(s) and the page will load as expected.