This article is a stub. It is short and in need of expansion. Why not help out?
This article is currently under construction. It may contain little or inaccurate information.
Incoming!
The subject of this article is a recent or unreleased addition to a Battlefield game. It may contain speculation or errors.
Have new, relevant information to add? Why not help out?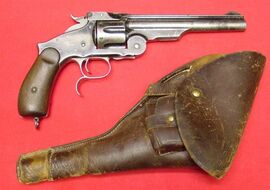 The Smith & Wesson Model No. 3 was a revolver produced by Smith & Wesson from 1870 to 1915. It was originally chambered for the .44 S&W American and .44 Russian cartridges, and typically did not have the cartridge information stamped on the gun. Model 3 revolvers were later produced in an assortment of calibers, including .44 Henry Rimfire, .44-40, .32-44, .38-44, and .45 Schofield. The design would influence the smaller S&W .38 Single Action that is retroactively referred to as the Model 2.[1]
The Russian Model of the No. 3 revolver is available in Battlefield 1.
Battlefield 1
Edit
"A true gun of the Old American West. The No. 3 is a classic top-break single-action revolver and saw action during WW1 in various forces."
— In-game description
The No. 3 Revolver is a weapon featured in Battlefield 1.[2]
References
Edit
Ad blocker interference detected!
Wikia is a free-to-use site that makes money from advertising. We have a modified experience for viewers using ad blockers

Wikia is not accessible if you've made further modifications. Remove the custom ad blocker rule(s) and the page will load as expected.