Operation Battleaxe
Talk

0
1,948pages on
this wiki

This article is a stub. It is short and in need of expansion. Why not help out?
This article is currently under construction. It may contain little or inaccurate information.
Operation Battleaxe
Game
Part of the
Teams
Date

June 15th - 17th 1941

Location

Eastern Libya

Terrain

Desert

Mode(s)

Conquest

Platform(s)

PC
Operation Battleaxe was a North African-theatre battle of World War II, fought in 1941 by the forces of the United Kingdom's Army and Nazi Germany's Afrika Korps. It was hoped that a Nazi defeat would ease the Siege of Tobruk, but was nearly a complete disaster. On June 15th, 1941, British forces attacked the Afrika Korps positions and scattered them, while withstanding several counterattacks. Elsewhere, British tanks came under heavy fire from Nazi artillery. Over half of all British tanks were destroyed on the first day. On the second day, approximately three-fourths of their tanks were gone. The Afrika Korps then counterattacked the British Army with a flanking maneuver, forcing the British to retreat on June 17th. The operation was a humiliating defeat for the British Army.
Battlefield 1942
Edit
The map provides each of the British and Germans with an uncapturable base on plateaus opposite each other. In between lies a large valley with 6 control points in, 3 British and 3 German, arranged in a circle. Both teams have the same amount of resources (tanks, planes, etc.).
Most of the flags have a similar layout; a bunker (with mounted machinegun), sandbags, barbed wire, and a number of supplies, including medical cabinets and ammunition boxes. Certain flags will spawn a tank (either a Panzer IV or an M4 Sherman).
Description
Edit
"General Rommel and his Afrika Korps have been gaining key victories in North Africa. To put a stop to his advances and end the Axis siege on Tobruk, British Command has devised Operation Battleaxe. It is believed that this counteroffensive will provide Allied forces with some much-needed momentum to defeat the enemy. Thanks to the arrival of reinforcements, the Allies now have the man and material to combat Rommel's Panzer Division. As part of this operation, a British light tank group has been ordered to engage the enemy near Sollum, an Egyptian town close to the Libyan border. Allied command needs to keep an eye on Rommel. He's had time to strengthen his positions and he's sure to have a few tricks up his sleeve."
— Map Briefing
Equipment
Edit
British Base
Edit
1st Line British Bunkers
Edit
2nd Line British Bunker
Edit
German Base
Edit
1st Line German Bunkers
Edit
2nd Line German Bunker
Edit
==
"The Germans were prepared, but the reinforced Allied forces had enough firepower to win this key victory in the North African campaign. To gain victory, the Allies withstood one of Germany's greatest military commanders and a surprise attack by the Luftwaffe. Though Rommel is on the run now, he will surely regroup as soon as possible to launch a counterstrike. Now, though, it is time for troops to rest and prepare for the next battle."
— British Victory
Easter Egg
Edit
On the A2 and A3 line there are shrubs in the shape of the letters NS. This stands for Niclas Svensson, the person who designed the map for Operation Battleaxe.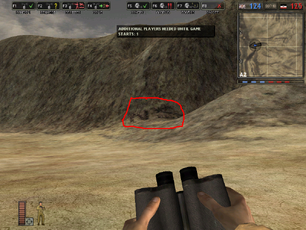 External links
Edit