PDW
Talk

0
1,692pages on
this wiki

This article is a stub. It is short and in need of expansion. Why not help out?
This article is currently under construction. It may contain little or inaccurate information.
PDWs
(Personal Defense Weapons)
are a subclassification of Submachine Guns that fire armor piercing rounds.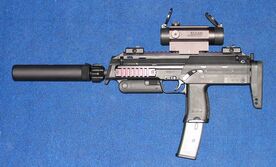 Battlefield 3
Edit
Battlefield 3 features PDWs as all kit weapons. The following PDWs are available:
Unlike Assault Rifles and Carbines, PDWs have different attachment slots, they cannot mount a Foregrip or Bipod, though most of them already have a foregrip built into them. Most of them also have the Extended Magazine attachment. The Suppressor, Flash suppressor and Extended Magazine attachment for them also occupy the Primary slot instead of the Barrel slot, allowing them to be used alongside the Laser Sight or Tactical Flashlight.
The UMP-45 is the only weapon without the Extended Magazine attachment, while the P90 and PP-19 have high capacity magazines by default.
Though outclassed in most areas by other weapons, PDWs have the lowest hipfire spread (only rivaled by bullpup carbines equipped with laser sight), generally reload faster than other weapons, and allow the player to move at full speed (unless aiming down sight with mid-range scopes). In the second respect, only the M16/AR15 variants and pistols load faster. And in the third respect, the bullpup assault rifles also allow normal strafing movement when ADS. A fourth respect is that the majority of the PDW's (UMP-45, PDW-R and AS Val being exceptions) damage dropoff doesn't start until 12 meters in comparison to the usual 8 meters by most assault rifles and carbines, meaning that the PP-2000 and the M5K for instance will only need 4 shots to a torso to kill at 12 meters where a typical assault rifle would need 5.
However, with an exception of the AS VAL (which ironically is one of the most accurate weapons in the game), PDW's suffer from a low aimed accuracy, comparable to Beltfed Machine Guns, as well as generally lower than average long range damage. Recoil patterns amongst PDW typically consist of horizontal (and often equally balanced) patterns, which are much harder to control and impacts ranged accuracy significantly. In addition, the majority of PDWs will start dealing minimal damage at shorter ranges than other weapon types, with some (UMP-45, AS VAL, PP-19) already at 40 meters. This also makes the Suppressor a more daring attachment with PDW's than other weapon types, as it further highlights the PDW's biggest flaw which is ineffectiveness at range.