PK-A
Talk

0
1,958pages on
this wiki

This article is a stub. It is short and in need of expansion. Why not help out?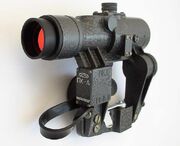 The PK-A red dot sight is a reflex sight produced by BelOMO (Russian: Belorusskoe Optiko-Mechanichesckoye Obyedinenie; English: Belarus Optical & Mechanical Enterprise) in Minsk, Belarus. The sight is compatible with side-mounted systems commonly found on AK, SKS, and SVD-type rifles. The sight itself is comparable to many Western red dot sights, such as the AimPoint Comp M3 and Comp M4. The sight uses a single red dot within a nitrogen-filled lens setup and has eight brightness levels.
Battlefield 3
Edit
PK-A

"Common Russian mid-range scope for AK and Saiga style receivers with a Chevron reticule and 3.4x zoom; faster aiming than the PSO-1 with less zoom."
Attachment slot

Optics

Available on

Assault Rifles
Carbines
Light Machine Guns
Sniper Rifles
Personal Defense Weapons
Shotguns
.44 Scoped

Unlocked at

350 Kills (US Assault Rifles)
150 Kills (RU Assault Rifles)

350 Kills (US Carbines)
40 Kills (RU Carbines)
30 Kills (QBZ-95B)
300 Kills (HK53 and MTAR-21)

175 Kills (US Mag-Fed LMGs)
50 Kills (RU Mag-Fed LMGs)
150 Kills (US Belt-Fed LMGs)
10 Kills (RU Belt-Fed LMGs)

270 Kills (US Sniper Rifles)
150 Kills (RU Sniper Rifles)

150 Kills (US Personal Defense Weapons)
70 Kills (RU Personal Defense Weapons)
80 Kills (AS Val)

350 Kills (US Shotguns)
150 Kills (RU Shotguns)

Default (.44 Scoped)

Magnification

297% (3.4x)

ADS time

0.333 seconds (raise and lower)

Source of statistics
First seen included on the Gamescom Multiplayer Fact Sheet released by EA, it is a 3.4x magnification sight, equivalent to the American M145 MGO. However, there are some differences. Aside from the model, which is notably less obstructive, the PK-A sports a single red chevron, rather than the actual crosshairs in the M145. The chevron is illuminated, making it the easier of the two 3.4x sights to aim in the dark without assistance from another attachment, like a laser pointer. However, despite being a superior night-ops choice, the PK-A has no ticks or reticle markings of any kind to indicate bullet drop. The M145 does have such markings, making it superior for longer-range combat.
Battlefield 4
Edit
This section is a stub. It is short and in need of expansion. Why not help out?

The PK-A is seen in the Battlefield 4 "Fishing in Baku" gameplay trailer attached to an AEK-971 used by a Russian soldier as he gets killed by Recker using the Combat Knife.
An ACOG mounted on the MK3A1 once used a single enlarged chevron, similar to the PK-A. This has been fixed in a patch.