PKA-S
Talk

0
1,958pages on
this wiki

This article is a stub. It is short and in need of expansion. Why not help out?
This article is currently under construction. It may contain little or inaccurate information.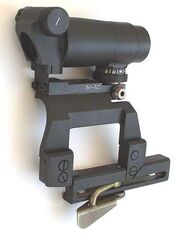 The PK-AS/ASV is an advanced, Russian-made reflex sight used in the Russian Military. It is a unique advanced scope as it is powered, but if the battery dies, the red dot becomes a black dot, allowing the wielder to still know where they are aiming if their sight loses power. 
Battlefield 3
Edit
PKA-S

"Russian advanced Holographic Sight featuring a circle and dot reticule for fast sighting. Great for mid to close range engagements with an open sight picture."
Attachment slot

Optics

Available on

Assault Rifles
Carbines
Light Machine Guns
Sniper Rifles
PDWs
Shotguns

Unlocked at

270 Kills (US Assault rifles)
80 Kills (RU Assault rifles)

235 Kills (US Carbines)
60 Kills (RU Carbines)
50 Kills (QBZ-95B)

150 Kills (US Mag-fed LMGs)
175 Kills (US Belt-fed LMGs)
10 Kills (RU Mag-fed LMGs)
50 Kills (RU Belt-fed LMGs)

200 Kills (US Sniper rifles)
50 Kills (RU Semi-auto snipers)
80 Kills (RU Bolt-action snipers)

125 Kills (US PDWs)
40 Kills (RU PDWs)

200 Kills (US Shotguns)
40 Kills (RU Shotguns)

Magnification

183% (1.5x)

ADS time

0.264 seconds (raise)
0.333 seconds (lower)

Source of statistics
The PKA-S is a weapon attachment featured in Battlefield 3. It is the Russian equivalent of the American Holographic Sight in that it provides minimal zoom and it has a dot-and-ring setup like the Holographic sight. Like all optics (minus those explicitly for the sniper rifle) it can be mounted on any primary weapon.
Battlefield 4
Edit
The PKA-S is set to appear in Battlefield 4. A hybrid variant can be seen with an adjustable zoom sight. It is used in the Siege of Shanghai gameplay trailer.