PKS-07
Talk

1
1,958pages on
this wiki

This article is a stub. It is short and in need of expansion. Why not help out?
This article is currently under construction. It may contain little or inaccurate information.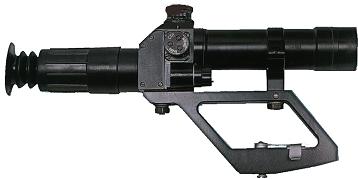 The PKS-07 is a 7x magnification Russian scope. In Battlefield 3, it is the 7x magnification scope and is the default optic on the SV-98, SVD, SKS, QBU-88, and the JNG-90. The scope features chevron distance markers as opposed to the crosshairs and mil-dots of the rifle scope. The in-game view through the scope itself is identical to the PSO-1, the differences between the two being the magnification and peripheral black-out that the 3 high-powered scopes have, and the same lense glare as the others as well.
The scope is available on all weapons which have mountable optics with the exception of the belt-fed LMGs and the PDWs.
Battlefield: Bad Company 2
Edit
The PKS-07 is mounted on the SV-98 Snaiperskaya. it has similar traits to the PSO-1 reticule seen on the SVU and VSS, but slightly different. It has the widest in-scope view in-game, and has sharply defined reticle markings. It also includes stacked chevron marks for gauging bullet drop over range.
Battlefield Play4Free
Edit
Russian
sniper rifles
, this time without the cosmetic rangefinder helper.
Battlefield 3
Edit
PKS-07

"A Russian high magnification 7x scope with ballistic reticle. The PKS-07 can be steadied by holding the sprint button when aimed, or by using a Bipod. PKS-07 scope reflections can reveal your position when aimed at enemies."
Attachment slot

Optics

Available on

Assault Rifles
Carbines
Mag-Fed LMGs
Sniper Rifles
Shotguns
AS Val

Unlocked at

300 Kills (US Assault Rifles)
125 Kills (RU Assault Rifles)

300 Kills (US Carbines)
100 Kills (RU Carbines)
90 Kills (QBZ-95B)
270 Kills (HK53 and MTAR-21)

270 Kills (US Mag-Fed LMGs)
125 Kills (RU Mag-Fed LMGs)

125 Kills (US Sniper Rifles)
Default (RU Sniper Rifles)

300 Kills (US Shotguns)
125 Kills (RU Shotguns)

70 Kills (AS Val)

Magnification

600% (7x)

ADS time

0.333 seconds (raise and lower)

Source of statistics
The PKS-07 is the default scope on the SVD, SV-98, SKS, and QBU-88, and JNG-90 with a 7x magnification. Chevrons are included for calculating Projectile arc over range. The American equivalent is the Rifle Scope.
Like the PSO-1, a stadiametric rangefinder is printed on the lower-left quadrant, but is not accurately scaled.