People's Liberation Army
Talk

0
1,698pages on
this wiki
Redirected from PLA

This article is currently under construction. It may contain little or inaccurate information.
For the similarily named faction, see PLR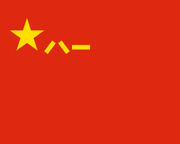 The
People's Liberation Army
(人民解放军) is the main military force of
China
. Founded in 1921 under the control of Communist Party of China, they participated in the Chinese Civil War, extended over certain periods between 1927 to 1950. As the PLA was victorious over the Republic of China's forces, the Communist Party of China took control officially in 1949 and created the People's Republic of China. From there on out, the PLA became the main military force of the PRC. Today, it includes 5 divisions: the Ground Force, the Navy, the Air Force, the Second Artillery Corps and the Armed Police.
Battlefield 2
Edit
In Battlefield 2, the PLA fights the United States Marine Corps and the European Union along side the Middle Eastern Coalition
Engagements against the USMC
Edit
Engagements against the EU
Edit
Default Character Kits
Edit
Knife
QSZ-92
Hand Grenades
Knife
QSZ-92 with silencer
Hand Grenades
Light Vehicles/APCs
Edit
Tanks/IFVs
Edit
Fixed-wing Aircraft
Edit
Helicopters
Edit
Emplacements
Edit
Battlefield 2: Modern Combat
Edit
In Battlefield 2: Modern Combat, the PLA is one of the two playable factions in singleplayer. It is also a playable faction in multiplayer.