Pantsir-S1
Talk

2
1,962pages on
this wiki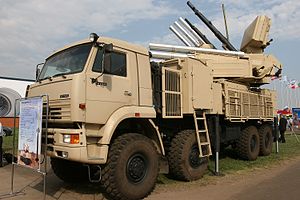 The Pantsir-S1 (Russian: Панцирь-С1), NATO reporting name SA-22 Greyhound), is a combined short-to-medium range surface-to-air missile and anti-aircraft artillery weapon system produced by KBP of Tula, Russia mounted either on a tracked or wheeled vehicle or stationary. The system is a further development of SA-19/SA-N-11.
Battlefield 3
Edit
Pantsir-S1
Vehicle health

Invulnerable

Vehicle optics
Main weapon

Twin 2A38M autocannon

Main weapon rate of fire

2000 RPM

Main weapon fire mode

Automatic

Main weapon ammuntion per reload

Unlimited

Sensors
Operators

Russia
"Russia's SA-19/SA-N-11 (Tunguska) mobile AA artillery system parked on a stationary platform."
— Battlelog description
The Pantsir-S1 is a Russian AA emplacement in Battlefield 3. It is seen in the Russian Base on Caspian Border, Kharg Island, Operation Firestorm, and Gulf of Oman in Conquest.
The Centurion C-RAM and Pantsir act in virtually the same way and can be considered counterparts. The Panstir has slow turning speed, especially when zoomed in. Fast-moving jets require much more leading than other vehicles, often to the outer extent of the crosshair reticle.
If caught near an enemy Pantsir, flying high and directly overhead can hinder the Pantsir's ability to retaliate, as aiming is much more difficult with the guns near vertical.
Battlefield 4
Edit
Pantsir-S1
Vehicle passengers

none

Operators

Russia
The Pantsir-S1 returns to Battlefield 4 as the Russian anti-air emplacement. As with the American Centurion C-RAM or the Chinese LD-2000 AA, the Pantsir is an unmanned vehicle that autonomously attacks nearby enemy aircraft.
Kill achieved with this or the Centurion C-RAM count toward stationary turret medals and awards, not mobile anti-aircraft vehicles.
The Pantsir is most effective if the enemy are spawn camping the base with aircraft.
After the 1.04 patch, the Pantsir-S1 and C-RAM now have Air Radar.

A later patch also made both AA emplacements invulnerable to all weapons. Before this, downed pilots and aggressive enemies could use explosives to attack and destroy the emplacements.

On the map Gulf of Oman, there is a cliff very close to Russian spawn, the Pantsir can be used to kill US soldiers overlooking the cliff trying to spawn kill. It can also be used to harass infantry on top of certain skyscrapers and cranes.
The Pantsir-S1 and Centurion C-RAM cannot damage tanks' front armor.
For consoles, the left analogue stick can be used to traverse your horizontal aim more quickly, and is useful for attacking targets that pass directly overhead.
External links
Edit