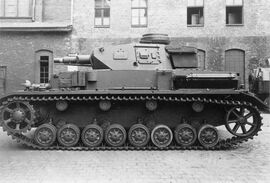 The Panzer IV is a German medium tank used in World War II. The Panzer IV was the only German tank to see combat over the whole of World War II, from Norway to Poland to the Battle of the Bulge and the Fall of Berlin.
During the later stages of the war, it was supplemented by the Panther tank, which was to replace it. Regardless, the venerable Panzer IV remained in service to the end of the war with Germany, and beyond in other countries. The Panzer IV depicted in-game is an Ausf. F1 variant.
Battlefield 1942
Edit

The Panzer IV is used by the Wehrmacht and the Royal Italian Army in the Road to Rome expansion pack. It is the direct equivalent (in stats) to the American and British Sherman and Soviet T-34-85.
Ad blocker interference detected!
Wikia is a free-to-use site that makes money from advertising. We have a modified experience for viewers using ad blockers

Wikia is not accessible if you've made further modifications. Remove the custom ad blocker rule(s) and the page will load as expected.