This article is a stub. It is short and in need of expansion. Why not help out?
This article is currently under construction. It may contain little or inaccurate information.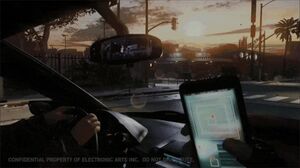 The Police Scanner is a gadget featured in the singleplayer campaign of Battlefield Hardline. Functioning in a similar manner to the Tactical Binos in Battlefield 4, it allows Nick Mendoza to survey a scene, marking targets, alarms, and potentially lucrative bounties along the way.[1]
Even after the events of Case Closed, Nick may still use the police scanner in the exact same manner as before.
References
Edit