Prone
Talk

0
1,697pages on
this wiki

The
prone
position is when one lies on the ground belly-down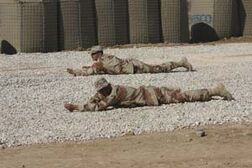 . While prone, a player can crawl underneath certain obstacles that a crouching or standing player cannot. Proning is included in
Battlefield 1942
,
Battlefield Vietnam
,
Battlefield 2
,
Battlefield 2142
and
Battlefield 3
.
Battlefield 1942
Edit
Prone makes its first appearance in Battlefield 1942. Prone minimizes one's profile, and decreases movement speed. However, prone also changes the in-game ballistics so that headshots are near certain when engaging enemies at the front.
Battlefield Vietnam
Edit
Unlike Battlefield 1942, in Battlefield Vietnam, prone drastically increases light machinegun effectiveness. It also minimizes one's profile. However, while prone, one must crawl at a very slow rate.
Battlefield 2
Edit
Like
Battlefield Vietnam
, prone increases the accuracy of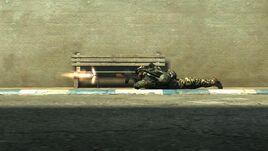 the light machineguns. Like all its previous iterations, prone decreases movement speed and minimizes profile—however, in
Battlefield 2
there is an added penalty inflicted upon players who change from prone to standing, in that there is a delay during which the player cannot fire.
Battlefield 3
Edit
Players can use the prone position to make use of a weapon's Bipod if they do not wish to use it on cover. Prone minimizes player profile and additionally increases weapon hip accuracy by a small degree. Additionally, one can crawl through certain obstacles and into certain areas that other players cannot.
Proning in Battlefield 3 is drastically different from prior games. While prone, movement is hindered in various ways:
Spinning is confined to a roughly 90° arc, beyond which the player character repositions himself.
The player character needs additional time to rise to a crouch or stand.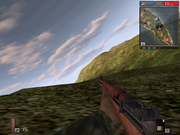 In Battlefield 1942, the hitbox of a character conforms to the surface it is prone on unless it is too steep. Due to the quirky prone mechanic, many humorous angles can be achieved.