Q-5 Fantan
Talk

0
1,960pages on
this wiki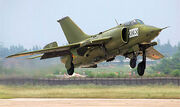 The Q-5 (Chinese: Qiangjiji-5, English: Fifth attack aircraft design, NATO reporting name: Fantan) is a ground attack aircraft built by Nanchang of China. The aircraft went into service in 1970 and has been seen in a number of variants since its inception. The Q-5 itself is based upon the MiG-19, but is armed with much more sophisticated weapons and guidance systems, all home-built in China.
The aircraft can be armed with a number of munitions, with all versions armed with two Norinco Type 23-2K 23mm cannons, each with 100 rounds. The Q-5 has room for up to 2000 kg (4,410 lbs) of bombs and rockets on four hardpoints, and it carries two air-to-air missiles for self-defense against other aircraft at the ends of its wings on two hardpoints.
Battlefield 2
Edit
Q-5 Fantan
Vehicle passengers

Pilot
(1 total)

Main weapon

2x Type 23-2K 23mm automatic cannon

Main weapon fire mode

Automatic

Main weapon ammuntion per reload

500

Alternative weapon

500 kg unguided bombs

Alternative weapon fire mode

2 bombs are dropped at once

Alternative weapon ammuntion per reload

4

Countermeasures

Flares

Vehicle speed

Medium

Vehicle maneuverability

Medium

Camouflages available

Woodland

Operators

People's Liberation Army

The Q-5 Fantan (referred as Fantan Q-5 in the killfeed) is a vehicle featured in the Battlefield 2: Armored Fury expansion on Midnight Sun. It is the ground attack aircraft for the People's Liberation Army. A single Fantan appears only at Midnight Sun on the 32- and 64-player versions of the map at the Chinese-held airfield. The Q-5 can use up to four unguided bombs at a time, has 500 rounds of ammunition for its main cannon and flares to stave off enemy missiles.
However, it lacks afterburners for a speed boost, making it incredibly slow in comparison to fighter jets. It also lacks air-to-air missiles and must rely on its Type 23-2K automatic cannon to take out other air vehicles. For these reasons, it is best for pilots to avoid air combat and rely on either allied anti-air vehicles and emplacements, or allied fighter jets if they are pursued by enemy fighter jets.
The Q-5's armament suits it very well in ground-attack operations, as it can destroy up to two main battle tanks with its four bombs, or easily clear a control point of attacking infantry by a combination of strafing and bombing the area around the flag. Although not recommended, the Q-5 can be used in dogfights, but the player is severely at a disadvantage due to lower speed and maneuverability over fighter jets, and lack of heat-seeking missiles - though some prefer using only guns in a dogfight.
Battlefield 4
Edit
The Q-5 Fantan is an Attack Jet featured in Battlefield 4.
External links
Edit