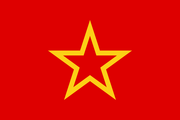 The
Red Army
(Russian:
Рабоче-крестьянская красная армия
Raboche-Krest'yanskaya Krasnaya Armiya
; English:
Workers'-Peasants' Red Army
) was the armed forces of the
Soviet Union
. The Red Army started out as a revolutionary militia during the Russian Civil War of 1918-1922. After its victory and the establishment of the Soviet Union, it grew to become the national army of the Soviet Union, and, by the 1930s, was one of the largest armies in history. During World War II, the Red Army fought on the front lines against German forces in the Eastern Front. Though poorly trained, the Red Army had an advantage with numbers and defeated about 80% of
Wehrmacht
and
Waffen SS
forces on the Eastern Front. In 1946, the Red Army was renamed the Soviet Army until 1991, where the Soviet Army was separated and reformed into armed forces of different sovereign states, such as the
Russian Ground Forces
.
Battlefield 1942
Edit
In Battlefield 1942, the Red Army fights the German Wehrmacht in historical battles of the Eastern Front.
Engagements against the Wehrmacht
Edit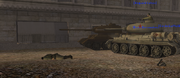 Player Kits
Edit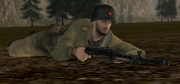 Ad blocker interference detected!
Wikia is a free-to-use site that makes money from advertising. We have a modified experience for viewers using ad blockers

Wikia is not accessible if you've made further modifications. Remove the custom ad blocker rule(s) and the page will load as expected.