Red Dot Sight
Talk

1
1,697pages on
this wiki

Not to be confused with the specialization in Battlefield: Bad Company 2 of the same name.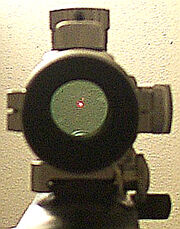 A
Red Dot Sight
is a reflex sight for most two handed weapons that gives a nearly unobstructed view of the shooter's target unaffected by parallax or distance while giving them a crosshair from which to shoot. This makes it regarded as a fast, easy to use and versatile sight for police, military and hunting purposes alike.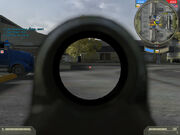 A red dot sight appears in Battlefield 2 on the AKS-74u, M4A1, SCAR-L, SCAR-H, and P90 weapons as an unremovable sight. Although the frame of the sight is different for each weapon (a Kobra sight for the AKS-74u, an Aimpoint M68 sight for the M4A1, SCAR-L and SCAR-H, and an FN micro red dot for the P90), the actual dot is the same amongst all of the different sights.
Rapid-Aim Red Dot Sight

Unlocked at

level 17

Unlock cost

600 (one day)
899 (one day)
2999 (unlimited)
9999 (unlimited, before level 17)

Kit
"Listen Up Soldiers!

More gear is on its way to the armory, so if you head on over there now you should be there in time to pick up some of the latest tech we have to offer.

This time we have a shipment of "Rapid Aim" red dot sights ready for distribution. These sights provide rapid target acquisition with their clear low zoom lens and slim frame allowing you to focus on important areas. Coupled with the powerful red dot which allows you to quickly find your bullet's target area before you fire.

These sights come into their own in close to mid range combat and allow you keep aiming, keep you eyes forward and still allow you to acquire targets.

"
— Forums- VitalBullet
Battlefield 3
Edit
Reflex (RDS)
"
Attachment slot

Optics

Available on

Assault Rifles
Carbines
Light Machine Guns
Sniper Rifles
PDWs
Shotguns

Unlocked at

50 Kills (US Assault rifles)
235 Kills (RU Assault rifles)

10 Kills (US Carbines)
235 Kills (RU Carbines)
200 Kills (QBZ-95B)

70 Kills (US Magazine-fed LMGs)
80 Kills (US Belt-fed LMGs)
200 Kills (RU LMGs)

90 Kills (US Sniper rifles)
235 Kills (RU Sniper rifles)

10 Kills (US PDWs)
90 Kills (RU PDWs)
100 Kills (AS VAL)

10 Kills (US Shotguns)
200 Kills (RU Shotguns)

Magnification

144% (1x)

ADS time

0.264 seconds (raise)
0.333 seconds (lower)

Source of statistics
"American made Red Dot Sight for extremely fast and clear target acquisition in close quarters. The single Red Dot in this sight makes getting on target easy."
— Battlelog discription
The Red Dot Sight is appears as an attachment in Battlefield 3. The regular RDS, named the Reflex (RDS), is unlocked for weapons used by the United States Marine Corps and the Kobra can be unlocked for weapons used by the Russian Ground Forces. Functionally the two sights are identical, and can be unlocked for the opposite faction's weapons when all the faction default attachments have been unlocked for a weapon.
Battlefield 4
Edit
This section is a stub. It is short and in need of expansion. Why not help out?

The Red Dot Sight appears in the Battlefield 4 reveal trailer as an attachment on Recker's Serbu Super Shorty.
In Battlefield 2, the PLA QBZ-97 does not come with a red dot sight, making it the only Special Forces default weapon to not have a red dot.
The Red Dot Sight in Battlefield 3 is referred in the game files as the RX01.
The Red Dot Sight seen in the Battlefield 4 shares the same appearance as the Trijicon RMR seen in Medal of Honor: Warfighter.