Rifle Grenade
Talk

0
1,963pages on
this wiki

The
rifle grenade
 is an explosive device launched from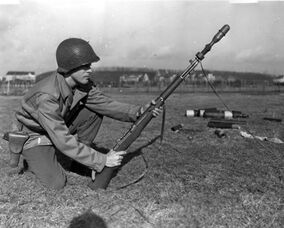 the muzzle of a rifle. They were commonly used during World War II, especially by the Allied American Forces and the Axis German Forces. The rifle grenades were designed to be fired from the muzzle from an
M1 Garand
or
Kar98K
. The grenade's power as just as that of a normal
Hand Grenade
, but with a much longer reach as it was launched from a blank round that would prime and launch the Grenade from the barrel. However, this method of launching the grenade was very inaccurate and unreliable compared to modern grenade launchers. Today, they are rarely used as they have been replaced by under-barrel grenade launchers such as the
M203
. However, some police forces use a similar concept for less-lethal munitions such as tear gas grenades.
Battlefield 1942: Secret Weapons of WWII
Edit
With the
Battlefield 1942: Secret Weapons of WWII
expansion, the Mauser K98k Gewerhgranate, a Kar98k with a rifle grenade, is introduced to the Waffen-SS
Engineer kit
. It is like a 
hand grenade
 due to its priming timer and ability to bounce. It will detonate just like a hand grenade, as well. The advantage to it over the hand grenade is that it has impact damage and much more range.
Battlefield 1943
Edit
Rifle Grenade
Damage

Direct Hit: High
Indirect Hit: Medium - Low

Ammunition capacity

1 Rifle Grenade

Maximum ammunition

3 Rifle Grenades

Faction
Kit
Inventory slot

Secondary Weapon
In
Battlefield 1943
, the rifle grenade is a secondary weapon issued to the
USMC
, as the 
M17
, and the
IJN
, as the 
Type 91
, 
Rifleman
kits. It is very powerful against infantry, usually killing in one shot with its effective detonation radius. It can also be used against vehicles being able to destroy a jeep within 1-2 shots, but using it against a tank is not recommended unless said tank is heavily damaged.
An interesting feature about the rifle grenade in the game is that switching to the weapon instantly mounts the explosive instead of manually placing it like when a player reloads. Another useful feature is that a player can switch to their other weapons or equipment and the reload process of the rifle grenade will continue. The same thing occurs to the Recoilless Anti-Tank Rocket Launcher.
Each kit comes with a maximum of 3 rifle grenades (once all used, the amount "regenerates").