Rorsch Kz-27
Talk

0
1,691pages on
this wiki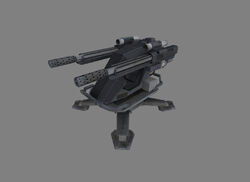 The Rorsh Kz-27 is a fixed anti-aircraft emplacement in Battlefield 2142. It is used by both the European Union and the Pan-Asian Coalition.
Description
Edit
The Kz-27 is an advanced anti-aircraft weapon used in the 22nd Century, during The Cold War conflict. Once set up, the emplacement can be manned by anyone. It fires plasma projectiles at fast rate and, after locking on, EMP missiles. It is commonly placed around Flag Sites and Launch Silos. Like all Silo/Site assets, it will appear only after the site has been captured by either side. After that, it will keep respawning after destroyed as long as the silo is in possession.
The Kz-27 can be difficult to use because the plasma blobs travel relatively slowly and drop slightly. You need to lead your target; even so, it's mostly effective against air transports. Gunships usually move too fast to be reliably hit.
However, that's why the Kz-27 is equipped with the EMP missiles. They will disable enemy aircraft for three seconds - usually not enough for it to crash, but enough to line up several good shots. The Rorsch does decent amounts of damage, so that should be enough. Also, reloading the EMP missiles takes about four seconds, which means you can keep disabling the enemy aircraft over and over.
The missiles seem to hit and disable somewhat randomly so always fire two at a time.
The projectiles can also be used against enemy infantry, FAVs and titan guns. Attacking any kind of armor will do zero damage. However, the explosion has a large graphical effect; if enemy armor is already engaged by other friendlies, go ahead and spam it with plasma - it can effectively block enemy's vision.
If you have trouble hitting infantry with the blobs, try moving your reticule slightly left and right of them to compensate for the left barrel/right barrel firing mode.
While the Rorsch is open from the sides, it counts as armor. You're completely immune to non-explosive attacks from the front, and can even survive one direct hit from a tank. Splash damage of all kinds - most notably, the ones from gunship and air transport autocannons - will still hurt you, however.
Vehicles of Battlefield 2142
Main battle tanks
Infantry fighting vehicles
Light vehicles
Battle Walkers
VTOL aircraft
Titans
Emplacements
Miscellaneous