The Russian Army, officially the Russian Ground Forces (Russian: Сухопутные войска Российской Федерации, Suchopútniye voyska Rosseeyskoy Federácii) are the land forces of the Russian Federation. Active since 1992 after the collapse of the Soviet Union, the Russian Ground Forces were formed from various parts of the Red Army. From 1992 onward, the Russian Ground Forces were withdrawn from Soviet bases in foreign regions to focus on "near abroad" affairs. They use sophisticated military tactics and perform with conventional warfare.
Battlefield: Bad Company
Edit
The Russian Army fights the 222nd Army Battalion in Battlefield: Bad Company in a fictional war between Russia and the United States. It is one of the three playable multiplayer factions.
Engagements against the 222nd
Edit
Attackers
Edit
Defenders
Edit
Player Kits
Edit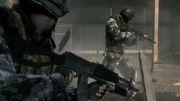 Light Vehicles
Edit
Helicopters
Edit
Emplacements
Edit
Battlefield Online
Edit
In Battlefield Online, the Russian Army is pitted against the USMC.
Battlefield: Bad Company 2
Edit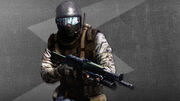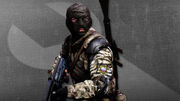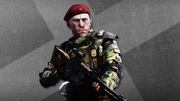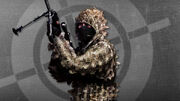 The Russian Army appears as an available faction in Battlefield: Bad Company 2.
Singleplayer
Edit
The Russian Army fight against the 222nd Army Battalion, the United States Marine Corps and the Special Activities Division. They are under the command of Arkady Kirilenko and are allied with the Latin American Militia. Their voices are provided by Oleg Mirochnikov (as Assault), Slav Shumov (as Engineer), Kirill Radcig (as Medic), and Nikolay Lazarev (as Recon).
Weapons Used
Edit
Vehicles Used
Edit
Engagements against the 222nd
Edit
Engagements against the Special Activities Division
Edit
Engagements against the USMC
Edit
Multiplayer
Edit
The Russian Ground Forces are one of the two playable factions and fight against the United States Army. It is also the opposing faction in Onslaught mode. When they are on the offensive in Rush maps, they almost always attack with their airborne elements.
Engagements against the US Army
Edit
Light Vehicles
Edit
Helicopters
Edit
Emplacements
Edit
Battlefield Play4Free
Edit
In Battlefield Play4Free, the Russian Army is seen fighting the United States Marine Corps in parts of China, Myanmar, and the Middle East.
Engagements against the US Marine Corps
Edit
| Image | Name |
| --- | --- |
| | Karkand: A strike in this industrial sector will be a bloody one as you fight in the alleyways and buildings of this close quarters heaven. Though be careful that the vehicles don't send you the other direction, six feet under. |
| | Oman: A large scale attack on this construction site is underway, ripping through the city. Large scale vehicle combat assists long range fighting. Close quarters determines your fate, though, once you enter a building. |
| | Sharqi: A peninsula that houses the headquarters of a prominent tv station, has been ripped apart by combat. Close quarters urban combat supports helicopters, land vehicles and a boat or two. Though snipers might find haven on the ramparts of all sorts of structures. |
| | Basra: The city has been hit hard by heavy fighting, but it isn't over yet. Urban, close quarters fighting, with vehicular support will leave you scrambling to keep each block of the city yours. |
| | Dragon Valley: The river gouged out the valley but forked halfway. Now, the battle will lead to the heart of this ancient valley. Narrowed long range combat for vehicles and infantry a like will be the name of the game here. |
| | Dalian: This nuclear facility is the site of more close range combat. The docks nearby house most of the fighting leading up to the facility. Airborne, waterborne and land vehicles will be going up and down the coastline, looking for their next target. |
| | Mashtuur: Divided in name and spirit, this map features intense urban, close quartered combat and a divide right in between two sides of the city. Air vehicles will have fun navigating the map in its majority will land vehicles will be funneled around streets and a bridge. |
| | Myanmar: The jungles here will be cruel, reducing everything to closer quarter combat. Vehicles are only land vehicles that can fight back the foliage. An old temple stands in the center making for a very focused fight. |
Battlefield 3
Edit
The Russian Army is a playable faction featured in the multiplayer of Battlefield 3, being pitted against the United States Marine Corps.
Default kits
Edit
Light Vehicles
Edit
Helicopters
Edit
Battlefield 4
Edit
The Russian Army is an available faction featured in Battlefield 4.
Singleplayer
Edit
The Russian Army appears as a hostile force in Baku and Tashgar.
In Baku, the RGF is deployed to Baku, Azerbaijan to intercept Tombstone Squad from collecting intelligence from a defecting Russian military general regarding Russia's stance on Admiral Chang's coup d'état in China. Pursuing Tombstone squadron throughout Baku and when Tombstone was about to be extracted, in a last effort deployed an Mi-28 Havoc to intercept them, while destroying the extraction helicopter, they did not succeeded in stopping Tombstone's escape.
In Tashgar, it seems the Russian Ground Forces occupied the town and surrounding areas (including a damaged dam), forcing the Marines stationed there into the old town, when Tombstone arrived, the RGF had gained the upperhand throughout the town. Tombstone Squad managed to fight there way through light Russian armor and troops to get to Greenland. In exchange for a transport to Suez, Tombstone was to blow up a dam (which underneath it was multiple SAM sites). After fighting there way through the dam, tombstone blew up the dam. Thus neutralizing the SAM threat and were transported via a C-130 Cargo Plane.
Weapons Used
Edit
The uniforms they wear come in five varieties: one identical to the Support in multiplayer with the exception of their visor for the helmet is down (similar to the PLA in SP ) who always wield a PKP, another identical to the Chinese Engineer who wields either a PP2000 or Saiga-12, a third that is like the Chinese Assault skin without goggles or a facewrap and uses a plain green camo and wields an AK-12, a fourth one is identical to the RU Recon wielding the SV-98 and the fifth functions as an AT troop using the RU Engineer model from MP and uses an AK-12 for close range and a SMAW. However, despite making use of Chinese skins, their weapons are almost all Russian in make -- the AK-12, PP2000, PKP, SV-98 and Saiga 12 are their small arms. However, they do make use of some American weapons such as the SMAW
Assault Rifles
Carbines
Heavy Machine Guns
Edit
Launchers
Edit
Light Machine Guns
Edit
Personal Defense Weapons
Edit
Sniper Rifles/Designated Marksman Rifles
Edit
Pistols
Vehicles Used
Edit
The Russian Ground Forces operate also operate a variety of vehicles. T-90 act as their main battle tanks, witnessed in the two missions they are in. In a brief instance, BMP-2's as their APCs. In Baku, it is seen that the Mi-28 is their attack chopper. Throughout both mission's, their main transport chopper is Ka-60 Kasatka. In both missions, it is seen that their main light vehicle is the VDV Buggy and some of their ground transport include KamAZ-53501.
Light Vehicles
Edit
LAV/Tanks
Edit
Helicopters
Edit
Multiplayer
Edit
The Russian army is pitted against both the USMC and PLA. Due to the choice of factions on a map being up to the server operator, the RGF can appear on any map against any other faction, including the RGF itself, if the server owner wishes so. However, changing the factions on a map is only available on PC.
PLA vs RGF
Edit
| Image | Map |
| --- | --- |
| | Golmud Railway: A map with a wide range of environs -- open, hilly lands to the south, intersected by the eponymous railway, with clusters of buildings offering mid and closer-range engagement at various points around the map. |
| | Lancang Dam: A vaguely U-shaped map, where most of the land concentrated around a road that runs through the map. It offers both naval and land engagements, with a variety of distances. |
| | Rogue Transmission: A wide-open map centered around a large radio dish. It offers largely long-range engagements with a wide variety of vehicles, although there are clusters of buildings which can allow for combat at closer ranges. |
USMC vs RGF
Edit
| Image | Map |
| --- | --- |
| | Zavod 311: A map set in the forest, largely revolving around an old tank factory. It features limited vehicular combat, with relatively short sightlines compared to the other vehicle-centric maps. |
| | Operation Locker: A large, two-level map which is largely enclosed. Featuring only infantry combat, it is almost purely close-quarters, with only a few corridors inside and two pathways along the outer edge. |
| | (SA) Gulf of Oman: A fairly built-up map focused in and around a construction site. Vehicles play a large role on this map, but with short sightlines there is just as much need for infantry. |
| | (SA) Operation Firestorm: The fire flows in this wide, open desert petroleum facility. It is largely vehicle-based, with only a few clusters of buildings for shorter ranged infantry engagements. |
| | (SA) Operation Metro: Years later, the fighting has come back to a very familiar subway and park. Close quarters has you scrambling in the subway and longish range combat in the park. |
| | (SA) Caspian Border: A large, mostly-open map focusing on vehicular combat. There are very few buildings on this map, and trees can be uprooted, and as a result sightlines on this map can get very long. |
| | (FS) Operation Whiteout: Oh, the weather outside is frightful, in this blizzard engulfed map. It will be a chilling vehicle warzone, with long range support from infantry; just remember that the blizzard will fade in and out as time goes on! |
| | (FS) Hangar 21: The precursor to a magnificent futuristic war machine, sits in its hangar, that was recently turned warzone. Traverse this long range map, in man cannons to help assist your vehicle brethren. Close quarters is huge in the similarly intense hangar. The night though, will make it difficult to see. |
| | (FS) Hammerhead: A snowed in submarine base becomes the home of some intense vehicle fighting, with as many as three attack choppers in the sky! Long range will be the primary style all around the map. Light snow flurries are expected! |
| | (FS) Giants of Karelia: The giants are here. You will be fighting amongst the prototypes of futuristic walkers, in an underground bunker that act as close quarters central. Once you get outside though, vehicular and long range combat will be the way to live. |
Default kits
Edit
The following loadouts shown below are the kit defaults for the Russian Army in Battlefield 4's multiplayer mode. Unlike Battlefield 3, there are no asymmetric starting weapons (and thus no faction-specific weaponry), and the starting gear and weapons are shared across all three factions, similar to Bad Company 2.
Kit
Assault

Engineer
Support

Ammo Pack
P226
M67 Frag
Bayonet

Recon
The Russian Ground Forces uses majority home made equipment with the exception of the Z-11W (made in China) and the DV-15 (made in France).
Light Vehicles
Edit
Helicopters
Edit
Fixed-Wing Aircraft
Edit
In Battlefield: Bad Company & Bad Company 2, the Russian vehicles' HUD color is red.
Battlefield: Bad Company
Edit
Sometimes, in Bad Company, the soldiers can be heard shouting "Dimitri", a common Russian male name.
The Serdaristani soldiers use exactly the same uniforms, equipment, and phrases as the Russian Army.
Battlefield: Bad Company 2
Edit
They are always the Defenders in Squad Rush for Battlefield: Bad Company 2.
Battlefield 3
Edit
The first-person model for them in Battlefield 3 is the same as Dimitri's, regardless of class.
The Russian Army in Battlefield 3 are always the Defenders in Rush and Squad Rush on all maps.
The Russian soldiers speak English in first person.
Battlefield 4
Edit
In the singleplayer campaign, all RGF character models feature People's Republic of China flag patches, which is most-likely an error. Soldiers wielding the PP-2000 will use identical character model to that used by PLA forces wielding the JS2.
The singleplayer RGF characters models that wield the AK-12 are reskins of PLA models wielding the QBZ-95-1. Just with a different head model.
The voice actor for the first person voice overs is a British actor, Andrew Byron. It's surprising that DICE didn't use a Russian-born voice actor, as some of the voice overs are incorrect.
The Russian soldiers will call the PGZ-95 and 9K22 Tunguska "an enemy tank", and will call the LAV-AD "an enemy AA", along with People's Liberation Army soldiers.
Ad blocker interference detected!
Wikia is a free-to-use site that makes money from advertising. We have a modified experience for viewers using ad blockers

Wikia is not accessible if you've made further modifications. Remove the custom ad blocker rule(s) and the page will load as expected.