IGLA
Talk

0
1,694pages on
this wiki
Redirected from SA-18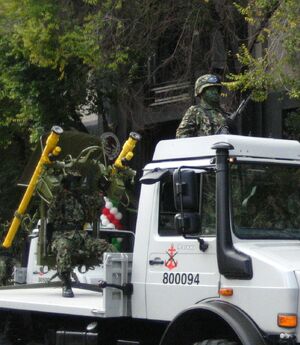 The 9K38 Igla (Russian: Игла́, English: needle, NATO: SA-18 Grouse) is a Russian man-portable infrared homing anti-air missile system that performs similarly to the American FIM-92 Stinger. It was developed to perform better than the Strela family of portable aircraft defense weapons against countermeasures such as flares. The system fires the 9M313 missile and has been used by Iraqi Army in the first Gulf War since its introduction in 1983.
It currently appears in Battlefield 2, Battlefield Play4Free and Battlefield 3.
Battlefield 2
Edit
The IGLA is used in Battlefield 2 by the People's Liberation Army and Middle Eastern Coalition factions. It spawns as a stationary anti-aircraft turret with two missiles and unlimited reloads. It, like the Stinger, locks on to and destroys enemy aircraft, but does virtually no damage on armored vehicles. The differences between the IGLA and Stinger are purely cosmetic; they perform on par with no difference.
Battlefield Play4Free
Edit
IGLA
Vehicle health

500

Main weapon

9M313 infrared-seeking missile

Main weapon damage

High

Main weapon reload time

about 5 seconds

Main weapon fire mode

Semi-automatic

Main weapon ammuntion per reload

2 missiles

Operators
In Battlefield Play4Free, the IGLA is used by the Russian Army and is seen on Oman. It shoots two missiles before reloading and is incredibly effective against enemy aircraft and helicopters after locking on to their infrared signature. If an enemy deploys flares, the missiles will try to follow after them and will miss their original target.
The IGLA can even, to an extent, be used against ground targets such as tanks and infantry. However, it is very inaccurate unless locked on to aircraft and it is likely the user will miss their target as the missile starts to curve upward over time after fired.
Battlefield 3
Edit
SA-18 IGLA
Starting ammunition

4 rockets

Maximum ammunition

6 rockets with EXPL

Special feature(s)

• Guided anti-air weapon

Faction

Russia

Kit

Engineer

Inventory slot

Gadget 1
"Russian man-portable infrared homing SAM. Labeled the 9K38 by the Russians and SA-18 IGLA by the US, the IGLA is capable of engaging a wide range of threats from UAV sized aircraft up to helicopters and low flying jets. The IGLA requires a locked target in order to fire."
— Battlelog description
The
SA-18 IGLA
is the unlockable anti-air weapon for
Russia
.
It is the first unlock for the Engineer class at 7000 XP, and is given at the same time as the FIM-92 Stinger for the American side. Like the Stinger, it requires weapon lock, and can only be used against air vehicles. It has a limited detection range (which can be reduced further via Stealth), and can be defeated with IR Flares.
It has the same range and damage as the USMC Stinger, yet it is an inferior weapon with a smaller sight radius, making it easier to lose track of an enemy vehicle. However, to compensate for this, the frame is much thinner.
External links
Edit