SPAD S XIII' is a Codex Entry featured in Battlefield 1. Detailing information about the SPAD S.XIII, it is unlocked by obtaining fifteen kills with the Fighter Planes.
Transcript
Edit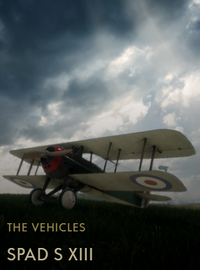 A French plane built in large numbers flown by many legends of the war, including the aces Georges Guynemer, Rene Fonck, Eddie Rickenbacker, and Francesco Barbara just to name a few.
It was a plane that could out-fly the German D. VII in many situations, and it could measure itself against the famous Sopwith Camel. Its major flaw was its low speed handing, making it somewhat lethal to land, should the pilot make the return flight back to his aerodome.
Ad blocker interference detected!
Wikia is a free-to-use site that makes money from advertising. We have a modified experience for viewers using ad blockers

Wikia is not accessible if you've made further modifications. Remove the custom ad blocker rule(s) and the page will load as expected.