Salmson 2 is a Codex Entry featured in Battlefield 1. Detailing information about the Salmson 2, it is unlocked by obtaining twenty kills with Attack Planes.
Transcript
Edit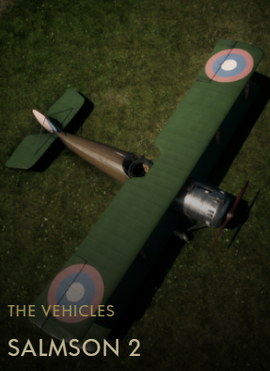 As the war progressed, the evolution of plane designs was moving rapidly. A plane that was modern in 1915 could prove to be a liability in 1917. The development of the Salmson 2 took place during the war. The first planes were delivered in April 1918 and 3200 planes were manufactured. These planes were capable of carrying a crew of two, several machine guns and a wireless set. Its top speed was 187kph (116mph).
It was widely used in June 1918 by the USAS, the Air Service of the United States Army.
Ad blocker interference detected!
Wikia is a free-to-use site that makes money from advertising. We have a modified experience for viewers using ad blockers

Wikia is not accessible if you've made further modifications. Remove the custom ad blocker rule(s) and the page will load as expected.