Shotgun
Talk

3
1,692pages on
this wiki

A
Shotgun
is a weapon designed chiefly to fire rounds loaded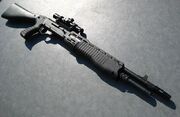 with multiple small metal projectiles at once, although a number of other types of ammunition have been adapted and manufactured for them, including solid slugs, sub-caliber saboted projectiles, flechettes, and a slew of 'less-lethal' rounds loaded with rubber projectiles or chemical projectiles.
Most shotguns in the Battlefield series are of the pump-action variety, with the occasional semi-auto or automatic modern variant. Shotguns are also seen as underslung attachments for assault rifles, often using special 40mm cartridges to achieve commonality with grenades and other devices also designed for the attachment. In the pre-BF2142 era, shotguns had unusable iron sights. Then in BF2142, shotguns' iron sights became usable. In the Bad Company series, shotguns once again had unusable iron sights until Battlefield Play4Free and Battlefield 3, which made iron sights usable again.
Types of shotguns
Edit
In the Battlefield series, players can choose a choice of 3 types of shotguns, each delivering different overall results in terms of number of pellets, number of pellets fired, fire mode, fire-rate and reload times.
Pump-action shotgun: A pump-action shotgun is a type of shotgun that requires the user to 'pump' the pump-handle attached to the tube magazine to remove the used shell and to load a new one. A pump-action shotgun is a devastating weapon, only needing one shot to kill a person at close range. However, they tend to have a lower rate-of-fire compared to semi-automatic/fully-automatic shotguns, with the only exception being the SPAS-12 in Battlefield 3. They fire the most number of pellets per shell and have the tightest pellet spread of all the shotguns. Pump-action shotguns also have the most range of any type of shotgun. Most pump-action shotguns are tube-magazine fed, which equals to a long reload time as each shell is loaded one-by-one. The SPAS-12 is an example of a pump-action shotgun.
Semi-automatic shotgun: A semi-automatic shotgun is a type of shotgun where the pump-handle is replaced by a mechanism that automatically removes and loads a new shell after each shot is fired. Because of this, they have a higher rate-of-fire compared to pump-action shotguns, though many have a fire-rate cap to balance the gun. Semi-auto shotguns have a lower pellet count per shell compared to pump-action shotguns, along with wider pellet spread. They have considerably less range compared to pump-action shotguns. They can be fed with either tube magazines, which has a long reload, revolver-type magazines, which takes 'forever' to reload (a magazine type unique to the DAO-12) and box magazines, which reloads fairly quickly. The Saiga is an example of a semi-automatic shotgun.
Fully-automatic shotgun: A fully-automatic shotgun is a shotgun that works in a similar way to semi-automatic shotguns, but fires every shell automatically when the trigger is pressed. They have the highest rate-of-fire of all of the shotguns, but is offset by a low pellet count per shell, the widest pellet spread of all of the shotguns, slightly less damage compared to pump-action and semi-automatic shotguns and the least amount of range compared to the other 2 types of shotguns. Because of this, fully-automatic shotguns are limited to extreme close quarters to close range combat. They are mainly fed by a removable magazine. The USAS-12 is an example of a fully-automatic shotgun.
Ammunition types
Edit
Throughout most of the Battlefield series, buckshot rounds are the only ammunition type available for shotguns. Flechette rounds are used in Battlefield 2142, again as the only ammo type.
Beginning with Battlefield: Bad Company 2, shotgun users can switch to 12 Gauge Slugs. In Battlefield 3, shotguns can be equipped with a choice of 4 types of ammunition.
Buckshot rounds are the default ammunition type for shotguns. They are extremely powerful at CQB, just needing one shot to kill an enemy. However, while they are extremely powerful, they are near-useless at range, they have weak penetration and they don't offer much suppression. Buckshot rounds are recommended for maps with choke points like Operation Métro, or smaller maps where engagements usually doesn't reach further out than 8 meters.
Flechette rounds are shaped like darts. They have increased penetration compared to buckshot and is useful to kill enemies hiding in light cover. However, they have lower damage potential and don't offer much suppression. They do increase the range of the weapon by a few yards, and have a tighter spread over short to medium distances. Flechette is recommended for maps that are more open, but do have CQB opportunities, like Strike at Karkand or Seine Crossing.
Frag rounds are designed to burst on impact, littering the target with shrapnel. Frag rounds offer increased suppression and increases the range of the weapon by a few yards but they lack damage in CQB, don't offer much penetration and can generally kill you when used in CQB. Frag rounds are the most controversial rounds in the Battlefield series mainly because fully-automatic shotguns like the USAS-12 and the MK3A1 "Jackhammer" become extremely overpowered when equipped with Frag rounds. The rounds and the weapons were tweaked in Patch 1.04.
Slug rounds offer increased range. The rounds are streamlined so that it can move faster in the air. While they offer increased range that can make a shotgun useful at medium range, they have a lower damage potential compared to Buckshot rounds, especially in CQB and they have weak penetration and a weak suppression effect.
In The Battlefield Series
Edit
Shotguns have appeared in almost every Battlefield game, except for Battlefield 1943. The kits that use them are:
Shotguns are very effective at close range, and can repel melee attackers in one hit. Only submachine guns challenge the shotgun at close range.
A skilled shotgun user can quickly eliminate an enemy squad at close range, a feat only matched by machine guns at long range, and grenades.
An underslung shotgun attachment can help assault rifle users conserve ammo for more distant engagements.
As with other weapons, the shotgun receives a damage bonus for headshots.
Shotguns can still inflict serious damage at mid range, though many weapons ramp down significantly.
Battlefield 1942
Edit
Shotguns of Battlefield 1942

Engineer Kit
The Browning Auto 5 is exclusive to only the Special Air Service Engineer Kit in Battlefield 1942: Secret Weapons of WWII.
Battlefield Vietnam
Edit
Shotguns of Battlefield Vietnam

Assault Kit
The Mossberg 500 is exclusive to only the United States Army and the United States Marine Corps Assault Kits.
Battlefield 2
Edit
Battlefield 2: Modern Combat
Edit
Battlefield 2142
Edit
Shotguns of Battlefield 2142

Support Kit
Assault Kit
Battlefield: Bad Company
Edit
Shotguns of Battlefield: Bad Company

Demolition Kit
Battlefield Heroes
Edit
Shotguns of Battlefield Heroes

Soldier Kit & Gunner Kit
Battlefield: Bad Company 2
Edit
Shotguns of Battlefield: Bad Company 2

All Kits
Singleplayer
Battlefield: Bad Company 2: Vietnam
Edit
Shotguns of Battlefield: Bad Company 2: Vietnam

All Kits
Battlefield Play4Free
Edit
Battlefield 3
Edit
Shotguns of Battlefield 3

All Kits
Assault