Ad blocker interference detected!
Wikia is a free-to-use site that makes money from advertising. We have a modified experience for viewers using ad blockers

Wikia is not accessible if you've made further modifications. Remove the custom ad blocker rule(s) and the page will load as expected.

This article is a stub as it is considered incomplete. Why not help out?
This article is a long disambiguation. Please do not add detailed information to this page; that is what the links are for.
This article is currently under construction. It may contain little or inaccurate information.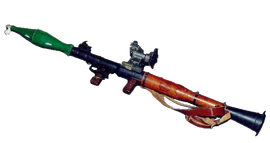 The term shoulder-fired missile refers to large weapons that fulfill the role of a ranged anti-vehicle weapon, firing large, relatively slow moving and explosive projectiles. Throughout the Battlefield series, shoulder-fired missiles have come in the form of either recoilless rifles, rocket-propelled grenades, surface to air missiles, wire guided, and lock-on missiles.
A rocket launcher fires a rocket-propelled projectile which deploys stabilizing fins to increase its accuracy. After leaving the barrel, the projectile continues to accelerate as it travels because it is constantly being propelled by its engine. Battlefield 3 introduced a feature that gave rockets an arming time which activates sometime after the projectile has left the barrel, making rocket launchers more effective after a certain range.
Recoilless
Edit
Recoilless Rifles of Battlefield 1942

Anti-Tank Kit
Recoilless Rifles of Battlefield 2: Modern Combat

Engineer Kit
Recoilless Rifles of Battlefield: Bad Company

Demolition Kit
Recoilless Rifles of Battlefield 1943

Anti-Tank Kit
Recoilless Rifles of Battlefield: Bad Company 2

Engineer Kit
Recoilless Rifles of Battlefield 3

Singleplayer
Recoilless Rifles of Battlefield 4

Battle Pickups
Rocket Propelled Grenade
Edit
Rocket Propelled Grenades of Battlefield 1942

Anti-Tank Kit
Rocket Propelled Grenades of Battlefield Vietnam

Heavy Assault Kit
Rocket Propelled Grenades of Battlefield 2

Anti-Tank Kit
Rocket Propelled Grenades of Battlefield 2: Modern Combat

Engineer Kit
Rocket Propelled Grenades of Battlefield: Bad Company

Demolition Kit
Rocket Propelled Grenades of Battlefield: Bad Company 2

Engineer Kit
Rocket Propelled Grenades of Battlefield Play4Free

Engineer Kit
Rocket Propelled Grenades of Battlefield 3

Engineer Kit
Rocket Propelled Grenades of Battlefield 4

Engineer Kit
Surface to Air
Edit
Surface to Air Missiles of Battlefield Vietnam

Heavy Assault Kit
Surface to Air Missiles of Battlefield 2142

Engineer Kit
Surface to Air Missiles of Battlefield 3

Engineer Kit
Surface to Air Missiles of Battlefield 4

Engineer Kit
Battle Pickup
Wire Guided
Edit
Wire Guided Missiles of Battlefield 2

Anti-Tank Kit
Wire Guided Missiles of Battlefield 2142

Engineer Kit
Wire Guided Missiles of Battlefield 4

Engineer Kit
Lock-On Missiles of Battlefield 3

Engineer Kit
Lock-On Missiles of Battlefield 4

Engineer Kit
Battle Pickups