This article is a stub. It is short and in need of expansion. Why not help out?
This article is currently under construction. It may contain little or inaccurate information.
Incoming!
The subject of this article is a recent or unreleased addition to a Battlefield game. It may contain speculation or errors.
Have new, relevant information to add? Why not help out?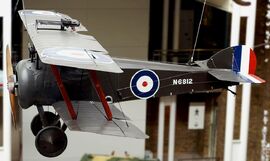 The Sopwith
Camel
is a
British
single-seat biplane and one of the most famous aircraft of the First World War. First introduced in 1917, it was influential in both restoring British air power to a competitive level, as well as eventually establishing air superiority over the Central Powers. The base variant of the Camel was equipped with twin Vickers machine guns.
Battlefield 1
Edit

The Sopwith Camel is an aircraft featured in Battlefield 1. It first seen in the reveal trailer, being shot down by a Fokker Dr.I and subsequently colliding with a large windmill. It is seen again in the "Battlefield 1 Gameplay Series: Vehicles" video engaging in dogfights. The full model was seen in the Customization screen during the Open Beta, although the Dr.1 Scout was the in-game craft used by both sides.
Ad blocker interference detected!
Wikia is a free-to-use site that makes money from advertising. We have a modified experience for viewers using ad blockers

Wikia is not accessible if you've made further modifications. Remove the custom ad blocker rule(s) and the page will load as expected.