"Who Dares Wins"
— Motto of the Special Air Service

The Special Air Service, commonly abbreviated to SAS, is a special forces regiment in the British Army of the United Kingdom, first active from 1941 to 1945, then from 1947 onward. They conduct diverse unconventional warfare. Before entering, soldiers go through a difficult training course called the "Selection". If a soldier passes, they are transferred into either the air, boat or mobility. As well as this, all three regiments that form the Special Air Service have a main and reserve counter-terrorism unit.
Battlefield 1942
Edit
The Battlefield 1942: Secret Weapons of WWII expansion features the SAS engage against the German Waffen SS. They wear camouflaged uniforms and green berets.
Engagements against the Waffen SS
Edit
Engagements against Wehrmacht
Edit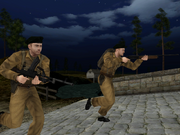 Commando Knife
M1911
3 Hand Grenades
Commando Knife
M1911
3 Hand Grenades
Commando Knife
M1911
Suppressed Sten SMG
3 Hand Grenades
Light Vehicles/APCs
Edit
Tanks/IFVs
Edit
Fixed-Wing Aircraft
Edit
Emplacements
Edit
Battlefield 2
Edit
The Battlefield 2: Special Forces expansion features the SAS engaging the Russian Spetsnaz and Insurgent Forces.
Default Character Kits
Edit
| Classes | Image |
| --- | --- |
| | |
| Engineer | |
| Anti-Tank | |
| Medic | |
| Support | |
| | |
| Sniper | |
Light Vehicles/APCs
Edit
Tanks/IFVs
Edit
Helicopters
Edit
Emplacements
Edit
Victory/Defeat Themes
Edit
The SAS are the only British military force independently represented in any modern-era Battlefield game, although their voices are also included in the European Union in Battlefield 2.
Ad blocker interference detected!
Wikia is a free-to-use site that makes money from advertising. We have a modified experience for viewers using ad blockers

Wikia is not accessible if you've made further modifications. Remove the custom ad blocker rule(s) and the page will load as expected.