Specialist
Talk

0
1,957pages on
this wiki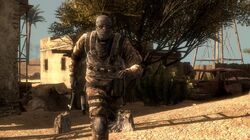 "Most effective when engaged in close combat and sabotage."
— in game description.
The Specialist Kit is a playable class unique to Battlefield: Bad Company's multiplayer.
The Specialist Kit seems to be a stealth based sabotage class, as it consists of a SMG or compact rifle, Tracer dart, and C4 explosives (only when unlocked). The compact assault rifles or SMGs are close quarter weapons, tending to have a high rate of fire and decent damage at close range, but their inaccuracy becomes noticeable even at relatively short distances. All Specialist weapons come silenced, which reduces muzzle flash (although this barely makes a difference considering these weapons are better used in close quarters) and noise made while firing. C4 is an effective anti-vehicle explosive as it destroys any vehicle type with a single pack, although they require the player to get extremely close to place the explosive on the target before use. Tracer dart guns are useful when C4 cannot be used against enemy vehicles, because someone using the Demolition Kit can then use their rocket launcher to home-in on the targeted vehicle.
Inventory
Edit