Squad Deathmatch
Talk

11
1,692pages on
this wiki


Squad Deathmatch is a gametype featured in Battlefield: Bad Company 2, Battlefield: Bad Company 2: Vietnam and Battlefield 3. It is extremely similar to the Team Deathmatch gametype in Battlefield 1942 except that it pits four squads against one another whos goal is to reach a score of 50 kills before any other squad.
Battlefield: Bad Company 2
Edit
In this game type, 4 squads (labeled Alpha, Brav
o, Charlie, and Delta) fight one another on a map. The first team to achieve 50 enemy kills wins the match. Instead of spawning in a set base like in
Rush
or
Conquest
, Squad Deathmatch has players spawn in either a random spawn point around the map or on their squadmates. There is also an IFV (specifically the
M3A3 Bradley
) in or near the center of the map and is labeled on the HUD and the minimap with an icon marking its location until occupied by a player.
Gameplay relies on good teamwork for each team to play their best. A well balanced squad that communicates well has the best chance at winning a round, where as a team full of Recon Kit wielders may suffer, but this is not always the case. The light tank proves very useful to the squad that decides to capture it as it has three machine guns (the top mounted M2 Browning and the two side-mounted firing ports) positions to cover the vehicle as the driver moves about toting the main 30mm chain gun. It is recommended that each squad-mate have a different Vehicle Specialization, with the driver having an active Specialization like the Alternate Weapon Package or the Smoke Countermeasures Package.
Achievements/Trophies
Edit
The Squad Deathmatch game mode is related to one achievement/trophy.
| | | | | |
| --- | --- | --- | --- | --- |
| Name | Image | Description | Achievement points | Trophy type |
| Won Them All | | Online: Win a round in all online game modes. | 15G | Bronze |
Battlefield: Bad Company 2: Vietnam
Edit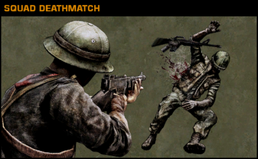 Squad Deathmatch is similar to the original game, with some differences though. All maps in the expansion can be played in Squad Deathmatch. Also, due to Infantry Fighting Vehicles being absent from the expansion, the
PBR
(a naval vehicle), the
UH-1 Iroquois
(a helicopter) and the
M48
(a main battle tank) are used instead in the maps.
Battlefield 3
Edit
Squad Deathmatch in Battlefield 3. The rules for the gametype have not changed from its Battlefield: Bad Company 2 counterpart. Like before, players should use team work and communicate well to ensure victory. It is recommended that players stay together and find an area to "hold down the fort". This can prove very successful and will greatly speed up the squads progress toward victory.
Unlike Bad Company 2, which featured the M3A3 Bradley as the main IFV in the game mode, the BMP-2 is the main IFV for all of the maps instead (except for Operation Métro and the Close Quarters expansion).