StG 44
Talk

14
1,958pages on
this wiki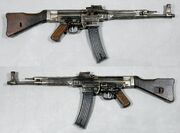 The StG 44 (German: Sturmgewehr 44; English: Assault Rifle model 1944) was a German automatic rifle designed in 1944. It is considered to be the first "true" assault rifle, as it used the 7.92x33mm Kurz ("short") intermediate cartridge. It had a rate of fire of 500-600 rounds per minute and an effective range of 300 meters.
Battlefield 1942
Edit
StG 44
Damage

7

Damage multipliers
Ammunition capacity

30 rounds

Starting ammunition

5 magazines

Maximum ammunition

5 magazines

Reload time

3.8 seconds

Rate of fire

540 rpm

Recoil

Low

Fire mode

Automatic

Faction

Wehrmacht, Afrika Korps
IJN (before patch v1.45)

Kit

Assault

Source of statistics
In
Battlefield 1942
, the
StG 44
is issued to the
Wehrmacht
,
Afrika Korps
and
Imperial Japanese Navy
(prior to its replacement by the
Type 99
in the v1.45 patch)
Assault
kit. It is similar to its American counterpart, the
M1918 BAR
, in terms of power. It has slightly more spread with its shots (hence reduced accuracy) and a 30 round magazine, as opposed to the 20 round magazine found on the BAR.
References
Edit