This article is a stub. It is short and in need of expansion. Why not help out?
This article is currently under construction. It may contain little or inaccurate information.
Incoming!
The subject of this article is a recent or unreleased addition to a Battlefield game. It may contain speculation or errors.
Have new, relevant information to add? Why not help out?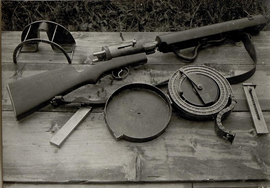 The Standschütze Hellriegel 1915 is a water-cooled submachine gun produced in very limited numbers for the Austro-Hungarian reserves (Standschütze) during World War I, by a designer identified only as "Hellriegel". A highly obscure weapon, no complete examples are known to still exist, and little official documentation remains. As a result, its operating mechanisms, exact production numbers and development history are all based on speculation. However, photographic evidence exists of it in live-fire tests which are dated October 1915, making it one of the earliest submachine gun designs in history.[1]
The weapon could be fed from either box magazines, or an unusual high-capacity drum magazine that gave the weapon the appearance of being belt-fed. It is unknown why the weapon did not progress beyond the prototype stage.
Battlefield 1
Edit
The
Hellriegel 1915
is set to be featured in
Battlefield 1
. It was first seen during the Battlefield 1 Official Gamescom Gameplay Trailer.
References
Edit
↑ The 'Standschutze Hellriegel' Submachine Gun Is a Mystery – War Is Boring
Ad blocker interference detected!
Wikia is a free-to-use site that makes money from advertising. We have a modified experience for viewers using ad blockers

Wikia is not accessible if you've made further modifications. Remove the custom ad blocker rule(s) and the page will load as expected.