For the singleplayer mission, see Storm of Steel

Storm of Steel is a Codex Entry featured in Battlefield 1. It is unlocked upon obtaining ten kills with stationary weapons.
Transcript
Edit
THE STORM OF STEEL - ARTILLERY IN WORLD WAR 1
Edit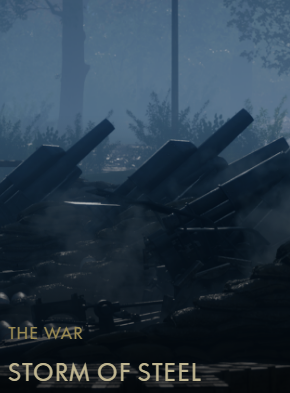 The number one cause of casualties in World War 1 was artillery fire. The most commonly fired munitions were the shrapnel shells. These were timed to explode in the air, dispensing hundred of metal fragments from above. This in turn led to the adoption of steel helmets.
THE GREAT WAR WAS FIRST AND FOREMOST A WAR OF ARTILLERY
Edit
Artillery was the number one threat to infantry and tanks and they came in many forms. From light mobile infantry support guns to the heavy siege artillery weapons with the power to level a fortress. Some were designed as weapons of propaganda, such as the infamous Paris Gun firing its projectile into the streets of Paris. This shells it fired flew so high that they were the first man-made objects to enter the stratosphere.
The ammunition types were custom-tailed for a variety of purposes. Shells could be ordered to produce shrapnel, gas, incendiary effect, high explosive, armor piercing and concussive blasts.
Ad blocker interference detected!
Wikia is a free-to-use site that makes money from advertising. We have a modified experience for viewers using ad blockers

Wikia is not accessible if you've made further modifications. Remove the custom ad blocker rule(s) and the page will load as expected.