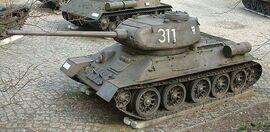 The T-34-85 is a Soviet tank designed by the Kharkiv Morozov Machine Building Design Bureau in 1943, and was a vast improvement of the original T-34-76 designed in 1940, featuring a more powerful 85 mm gun, additional armour and a fifth crew member. It was produced between 1940–1958 and saw much action with Soviet Forces during World War II and was the most effective tanks of World War II. Even after its replacement by the T-54, the T-34 remained in service with many other Warsaw Pact nations and is still in service with over a dozen countries even today.
Battlefield 1942
Edit

The T-34-85 is a vehicle featured in Battlefield 1942 and is the main Soviet tank. It is the equivalent of the Wehrmacht Panzer IV. It boasts a powerful main cannon that is effective at taking out groups of infantry or heavy armor, as well as a co-axial machine gun for picking off single targets. A second player can man the mounted MG42 to aid in anti-infantry situations and spotting enemies, however, this position is very vulnerable to sniper fire and explosions.
Appearances
Edit
Ad blocker interference detected!
Wikia is a free-to-use site that makes money from advertising. We have a modified experience for viewers using ad blockers

Wikia is not accessible if you've made further modifications. Remove the custom ad blocker rule(s) and the page will load as expected.