T-34-85
Talk

0
1,693pages on
this wiki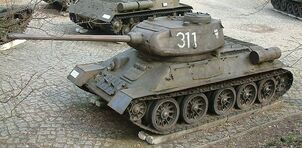 The
T-34-85
is a Soviet tank designed by the Kharkiv Morozov Machine Building Design Bureau in 1943, and was a vast improvement of the original
T-34-76
designed in 1940, featuring a more powerful 85 mm gun, additional armour and a fifth crew member. It was produced between 1940–1958 and saw much action with Soviet Forces during World War II and was the most effective tanks of World War II. Even after its replacement by the
T-54
, the T-34 remained in service with many other Warsaw Pact nations and is still in service with over a dozen countries even today.
Battlefield 1942
Edit
T-34-85
Main weapon

85mm long barrel

Main weapon ammuntion per reload

1 (40 Total)

Alternative weapon

Co-axial machine gun

Alternative weapon ammuntion per reload

Unlimited

2nd passenger weapon
2nd passenger weapon ammunition per reload

Unlimited

Operators

In Battlefield 1942, the T-34-85 is the main Soviet tank. It is the equivalent of the Wehrmacht Panzer IV. It boasts a powerful main cannon that is effective at taking out groups of infantry or heavy armor, as well as a co-axial machine gun for picking off single targets. A second player can man the mounted MG42 to aid in anti-infantry situations and spotting enemies, however, this position is very vulnerable to sniper fire and explosions.
Appearances
Edit