Tactical Light
Talk

4
1,962pages on
this wiki

The
Tactical Light
is an attachment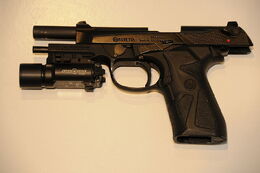 a soldier may apply to their weapon for aide in visibility when in dark locations where night vision goggles would be unnecessary or too bulky. A flashlight can easily be attached to a weapon's rail system or a special mount if rails are not available.
Battlefield 3
Tactical Light

"A Tactical Light lights up the dark environments with white light. In close quarters the Tactical Light can also disorient and temporarily blind others, but can also reveal your position."
Attachment slot

Secondary

Available on

Assault Rifles
Carbines
Light Machine Guns
Sniper Rifles
Personal Defense Weapons
Shotguns
Pistols

Unlocked at

40 Kills (Assault Rifles)

40 Kills (US Carbines and QBZ-95B)
50 Kills (RU Carbines)

40 Kills (Light Machine Guns)

40 Kills (Sniper Rifles)

50 Kills (Personal Defense Weapons)
20 Kills (AS Val)

50 Kills (Shotguns)
40 Kills (DAO-12)

Rank 10 (M9)
Rank 13 (MP-443)
Battlefield Veteran/EA Gun Club (M1911)

Source of statistics

Battlelog (Kills)
In Battlefield 3, the Tactical Light is an attachment that can be applied to weapons such as carbines and shotguns and has the ability to be toggled on or off.
Singleplayer
In the singleplayer campaign, the tactical light is seen on the player's M4A1 in the "Fault Line" gameplay trailers. It is used during the segment where Ssgt. Blackburn is ordered to find and defuse a suspected IED. It is also in the missions Kaffarov, Operation Swordbreaker, and Night Shift.
Co-Op
In the co-op campaign, the tactical light is attached to both players' MP7s in Hit and Run. The tactical flashlight is also attached to both players' M4A1s in The Eleventh Hour. It is also attached to the enemies' weapons in both missions.
Mulitplayer
In multiplayer, the tactical light was first seen attached to the M4A1 and the AKS-74u, as seen in the Operation Métro multiplayer trailer. The tactical light can distort enemies' vision if they look directly at it, making it more difficult to return fire on their attacker, but not entirely impossible. The attachment can be applied to many weapons, including carbines, machine guns, shotguns, and some pistols (as a "Tactical" variant).
Looking directly at a tactical light from a few feet away, a player will become temporarily stunned and it becomes harder to move and hear. The downside is that it reveals the user's position, especially from further away where the light has no negative effect on targets. Tactical lights are a form of non-lethal suppression.
The flashlight can be toggled on and off, can accidentally blind teammates, and changes direction according to the orientation of the weapon - when the gun is lowered while sprinting, the flashlight will shine to the left.
PC players have the ability to keybind Toggle Weapon Light to the same key used for Zoom, allowing the light to be turned on while aiming down sight or while hipfiring. By default, the tactical light is turned on when the player spawns.
Battlefield 4
Tactical Light

"A flashlight that lights up automatically when you aim down your sights. Lights up areas and blinds enemies."
Attachment slot

Accessory

Special feature(s)

Flashlight that toggles by ADS
The Tactical Light is a weapon attachment featured in Battlefield 4. Utilizing "multiple binding", it is triggered whenever the weapon it is attached to is aimed down the sights.