The Handyman is a Codex Entry featured in Battlefield 1. It is unlocked upon obtaining 10 repairs with the Repair Tool.
Transcript
Edit
ENGINEERS IN THE GREAT WAR
Edit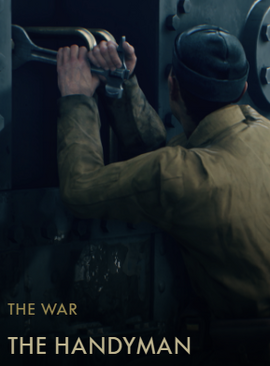 The Engineer Corps of the Great War were the backbone of every fighting army. They maintained communication and signaling equipment as well as field guns and heavy artillery. Engineers also worked with land surveying and topography to identify enemy positons. They erected or breached fortifications, and they knew best how to handle poisonous gas, barbed wire, or high explosives.
Later in the war they repaired and maintained mechanized divisons. Early tanks were fragile and broke down easily, and without the expertise of the engineers, those machines would become easy prey for the enemy.
Ad blocker interference detected!
Wikia is a free-to-use site that makes money from advertising. We have a modified experience for viewers using ad blockers

Wikia is not accessible if you've made further modifications. Remove the custom ad blocker rule(s) and the page will load as expected.