Type 85
Talk

0
1,693pages on
this wiki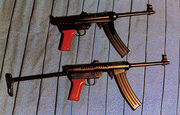 The Type 85 (Chinese: 85式冲锋枪 1985 shì chōngfēngqiāng; English: 1985 model submachine gun) is a Chinese submachine gun that was developed in the 1980s to replace the Type 79 with a more inexpensive weapon. A silenced version was also made to replace the aging silenced Type 64. It fires the 7.62x25mm Tokarev round that is used in a number of Russian- and Chinese-made weapons.
Battlefield 2
Edit
Type 85
Damage

19

Damage multipliers

3 (head)
1 (torso)
0.7 (limbs)
0.66 (armor)

Unlocked at

Unlocked at start

Ammunition capacity

30 rounds

Reload time

3.4 seconds

Rate of fire

900 rpm

Recoil

0.4-0.6 (hip)
0.6 (zoomed)

Fire mode
Faction

PLA

Kit

Anti-Tank

Source of statistics
In Battlefield 2, the Type 85 is used by the PLA Anti-Tank Kit. The Type 85 has low accuracy, even when sighted, it also delivers only moderate damage. However, it has a high rate of fire (like the other sub machineguns), and has the fastest reload rate of the submachineguns.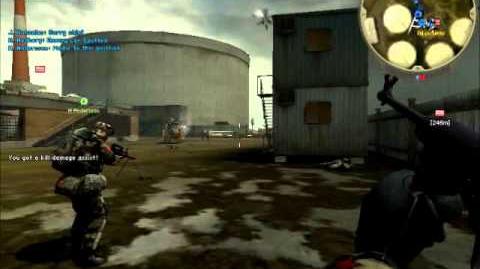 External links
Edit
References
Edit