Type 85 HMG
Talk

1
1,693pages on
this wiki

This article is a stub. It is short and in need of expansion. Why not help out?
This article is currently under construction. It may contain little or inaccurate information.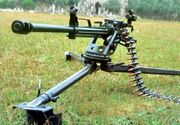 The Type 85 HMG is a heavy machine gun designed in China for the People's Liberation Army. It is a further improved version of the Type 77 heavy machine gun, itself based upon the Russian DShK. It is used on vehicles much like the American M2 Browning, but it was primarily designed as an anti-aircraft gun as it is usually issued with a low-magnification scope that has a targeting reticle for both infantry and aircraft. The weapon can also be used on a lightweight tripod and can attach a tubular shoulder stock for infantry use.
Battlefield 2
Edit
In Battlefield 2, the Type 85 HMG is used in the secondary gunner position of the PLA Type 98 main battle tank, as well as the NJ 2046, the Chinese FAV, and Z-8. It performs nearly identically to its USMC and MEC counterparts, the M2 Browning and the KORD.
Type 85 HMG
Damage

20

Reload time

Overheat after 3 seconds of continuous fire

Rate of fire

450 rounds per minute

Range

Long

Fire mode

Automatic

Source of statistics

Battlefield 2 game files
Battlefield 2: Modern Combat
Edit
Type 85 HMG
Ammunition capacity

1000 rounds

Fire mode

Fully automatic
In
Battlefield 2: Modern Combat
, the
Type 85 HMG (correctly referred to as the W85 HMG)
 is seen as a stationary turret, as well as being mounted on multiple Chinese vehicles including the gunner position of the Type 98, the gunner seat of the Chinese version of the
FAV
, and the two side gunner seats of the
WZ-9
. The weapon performs identically to the M2 Browning, with a decent fire rate and power, as well as 1000 rounds before needing to "reload".