Type 95 Kurogane
Talk

10
1,963pages on
this wiki

For other uses of Type 95, see Type 95.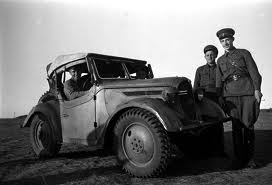 The Type 95 "Kurogane" (Japanese: 九十五式黒金 Kyujugo-shiki kurogane; English: Type 95 Black Metal) was a Japanese reconnaissance vehicle designed during the mid-late 1930s and used during World War II. It was the only completely Japanese-designed recon car ever used by the Japanese Army.
Battlefield 1942
Edit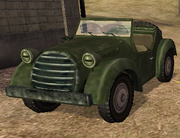 In Battlefield 1942, the Kurogane is Japan's standard light vehicle, having been added in a patch to replace the earlier Kubelwagen issued to the IJN. It spawns regularly at certain IJN controlled flags. It is fast and small, but has very poor armor, being vulnerable to hand grenades and small-arms fire, and has little protection for its passengers. It can have 2 players on board: the driver and a passenger beside the driver.
โจมตีโลกโจมตีไทย |name=Vehicles=bf1942 |group1=Heavy tanks |list1 = M10 · Tiger · T-34-76 · Sturmgeschutz (RtR) · T95 (SWoWWII) · Sturmtiger (SWoWWII) |group2 = Medium tanks |list2 = Sherman (T34 Calliope, SWoWWII) · T-34-85 · Panzer IV · Chi-ha · CA M11/39 (RtR) · M3 Grant (RtR) · Flakpanzer IV (SWoWWII) · M8 Greyhound (SWoWWII) |group3 = Light vehicles |list3 = Lynx scout car · Kettenkrad · Kubelwagen · Type 95 Kurogane · Willys MB · Harley-Davidson (SWoWWII) · Schwimmwagen (SWoWWII) |group4 = Halftracks and APCs |list4 = Hanomag · Ho Ha · M3A1 · LVTP (SWoWWII) · M4A1 MMC (SWoWWII) · Munitions Panzer (SWoWWII) |group5 = Self-propelled artillery |list5 = Katyusha · Priest · Sexton · Wespe · M3 GMC (RtR) · Krupp Protze (SWoWWII) |group6 = Fixed-wing fighters |list6 = Bf 109 · Corsair · P-51 Mustang · Spitfire · Yak9 · Zero · C-47 Skytrain |group7 = Dive-bombers |list7 = Aichival / AichiVal-T · Il-2 Sturmovik · Ju-87 Stuka · SBD / SBD-T |group8 = Medium bombers |list8 = BF110 (RtR) · Mosquito (RtR) |group9 = Heavy bombers |list9 = B-17 Flying Fortress · Ju-88A |group10 = Jet aircraft |list10 = AW-52 (SWoWWII) · F-85 Goblin (SWoWWII) · HO-229 (SWoWWII) · Natter rocket plane (SWoWWII) |group11 = Emplacements |list11 = 40mm Bofors · Browning · Flak 38 · MG42 · PAK 40 · Defgun · QF 25 pdr (RtR) · Wasserfall (SWoWWII) · Felixstowe RadarTower |group12 = Aircraft carriers |list12 = Enterprise · Shokaku |group13 = Battleships |list13 = Prince of Wales · Yamato |group14 = Destroyers |list14 = Hatsuzuki · Fletcher |group15 = Submarines |list15 = Gato · U-boat type VIIC |group16 = Small boats |list16 = Daihatsu · Elco 80 · Lvcp · Raft · Type 38 · Commando Raft (SWoWWII) |group17=Helicopter |list17=Flettner (SWoWWII) }}
Battlefield 1943
Edit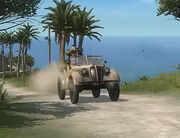 In Battlefield 1943, the Type 95 spawns regularly at certain IJN controlled flags. It's fast and small, but has a very weak armor, quite vulnerable to rifle grenades and machine gun fire. It can have three people aboard: one driver, one passenger (capable of using all of their infantry weapons) and one gunner (manning a M1919 Browning). It is the Japanese equivlent to the Willys MB.  โจมตีโลกโจมตีไทย |name=Vehicles/BF1943 |group1=Tanks |list1=M4A1 Sherman · Type 97 Chi-Ha |group2=Cars |list2=Type 95 Kurogane · Willys MB |group3=Planes |list3=A6M Zero · F4U Corsair · Bomber (B-25 Mitchell · G4M Betty) |group5=Naval vessels |list5=LCVP · Shokaku-class aircraft carrier · Yorktown-class aircraft carrier |group6=Emplacements |list6=40mm Bofors · M1919 Browning · Air Raid Bunker }}
Battlefield: Bad Company 2
Edit
Type 95 Kurogane
Vehicle health

500 (enemies), invulnerable (player & allies)

2nd passenger weapon

Japanese Machine Gun

2nd passenger weapon damage

50 (player)

2nd passenger weapon rate of fire

550 rpm

2nd passenger weapon fire mode

Automatic

Operators
Source of statistics
The Type 95 Kurogane makes a brief appearance in Battlefield: Bad Company 2 during the opening mission, Operation Aurora. The player is ordered to use the mounted machine gun to shoot enemy Type 95s that are chasing them and their squad during the escape to the sub pens. The car itself is invulnerable, but the player can still die. โจมตีโลกโจมตีไทย |title=Vehicles of [[Battlefield: Bad Company 2| |group1= Main battle tanks |list1 = M1A2 Abrams (M2 Browning/M240C) • T-90 MBT (KORD/PKT) |group2 = Infantry fighting vehicles |list2 = M3A3 Bradley (M2 Browning) · BMD-3 Bakhcha (KORD) |group3 = Anti-Aircraft Vehicles |list3 = ACV-S (VADS) (cut) · BMD-3 Bakhcha AA (ZU-23-2) |group4 = Light vehicles |list4 = Vodnik 4WD · Cobra 4WD · HMMWV 4WD · Quad Bike · CAV · M939 Truck · Type 95 Kurogane (SP only) |group5 = Helicopters |list5 = Mi-28 Havoc · AH-64 Apache · UH-60 Black Hawk (M134 Dillon minigun) · Mi-24 Hind · UAV-1 |group6 = Naval craft |list6 = Personal Watercraft · Patrol Boat · Mark V patrol boat (Onslaught Only) . Sampan (SP only) · Raft (SP only) |group7 = Emplacements |list7 = ZU-23-2 · BGM-71 TOW · 9M133 Kornet · KORD · XM312 · QLZ-87 Auto GL · XM307 · VADS · M1919 Browning (SP only) |group8 = Unusable vehicles |list8 = 40mm Bofors (SP only) · A-10 Thunderbolt II · A6M Zero (SP only) · Antonov An-124 · F4U Corsair (SP only) · F/A-18 Hornet · Ka-52 · Su-25 Frogfoot · Type 97 Chi-Ha (SP only) · Type B1 submarine (SP only) }}
References
Edit