UAV (commander resource)
Talk

0
1,694pages on
this wiki

The UAV is a commander ability in Battlefield 2 and Battlefield 2142. It provides 55 seconds of 'radar', enabling all teammates to see the location of enemy units within its limited radius.
The UAV depends on a small hut/trailer for it to work, usually located in or near the team's starting spawnpoint (which may or may not be a capturable, depending on the map). The hut can be destroyed with 2 packs of C4 dropped by a Special Forces player. Once destroyed, either commander is unable to use the UAV until a team member repairs it or a supply crate is dropped near it for repairs.
Battlefield 2Edit
Originally, the Battlefield 2 UAVitself was invisible, however in the 1.2 patch, the UAVs became both visible and vulnerable to ground fire - although unlike other aircraft it is almost impossible to shoot down a UAV with anything other than mobile AA. The UAV is based on the American RQ-1 Predator A Drone.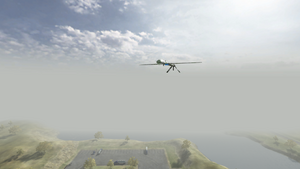 Battlefield 2142Edit
The UAV used for Battlefield 2142 is based on a flying wing design, similar to the US B-2 Spirit strategic bomber.
On the rare occasion that a player is in proximity of the actual UAV (and the even rarer occasion that the drone has glitched and is traveling low on the ground), the UAV can crush players against walls or push them off rooftops.
The UAV is vulnerable to anti-aircraft weaponry, and less so to infantry firearms. UAVs can be targeted and destroyed by either team. Because the owner of the UAV is not shown (other than through guesswork), players risk shooting down their own team's UAV.